A ski/ride TR being posted in the middle of summer?   Yep!
It's taken me almost 4 months to finally finish composing this.  But, as we round the bend of summer and the Earth starts tilting in a more winterly direction thoughts begin to return to snow, so here goes.
If you didn't see the first two parts, you can check them out here:
Or the tl;dr summary:  Waud, Chung, and Kappe came over from Vermont at the start of April.  We took in some culture, we shredded some pow, and we ate some really good food.  Then it was time to head up into the high alpine for some more technical adventures.
In writing the bulk of this instalment several months after it happened, I am grateful that our guide Arnaud wrote up his own TR right away.  You can read that here: http://arnaud-bayol.over-blog.com/2015/04/raid-en-ski-autour-de-chamonix.html  It's in French, but you can get a passable (if at times hilarious) translation from Google: here.
Tuesday, April 7
I, for one, crashed super early Monday and woke up Tuesday morning still needing to finish some preparations for the next few days.   We would be staying in alpine huts the next two nights and so had to take a pack for 3 days in the haute montagne and load the rest of our stuff into the car.  We got it all loaded, and we made it to the Grand Montets lot just early enough to meet Arnaud and catch the first box up1.
However, the tram to the top was not running due to high winds so we took the Herse chairlift followed by a brain chattering ride down some icy moguls, while cutting hard skiers right, before finally putting skins on the planks and roping up to cross the Glacier d'Argentière.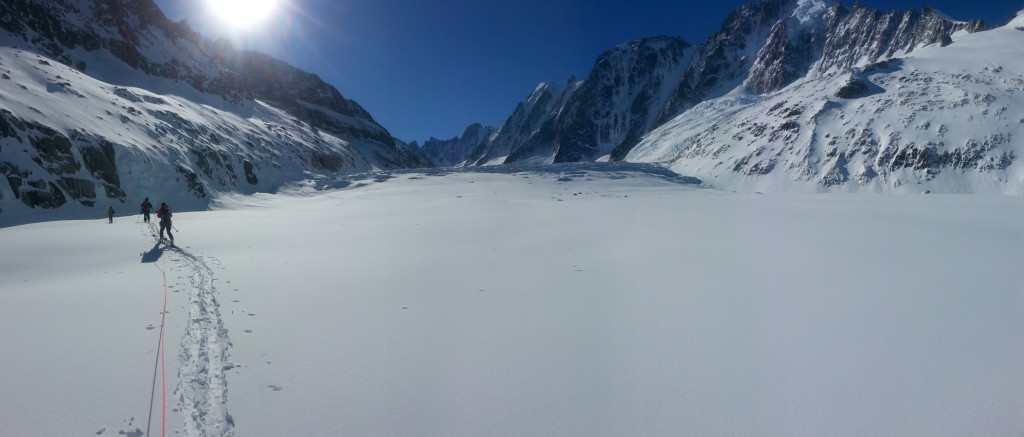 After making our way across the glacier we were able to de-rope and make our way up the couloir to the Col du Passon.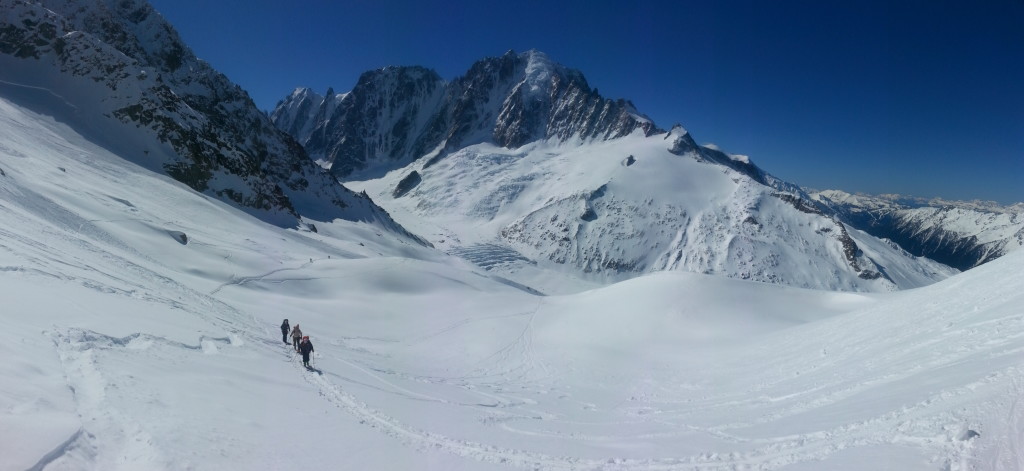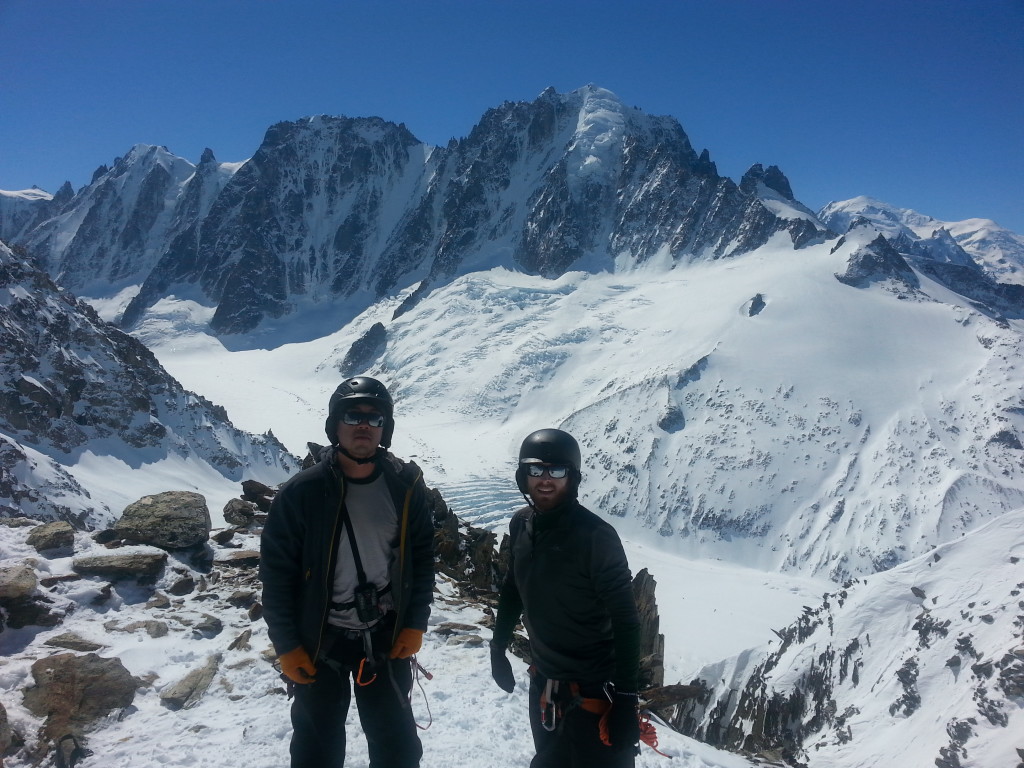 We eventually made it up, transitioned, descended a bit and then made a long side hilling traverse around.  We were all feeling fatigued, but somehow dug deep in our energy tanks to make another small climb to catch a bit more turns from the Col Supérieur du Tour before finishing with a long traversing descent down to the Refuge d'Albert 1er.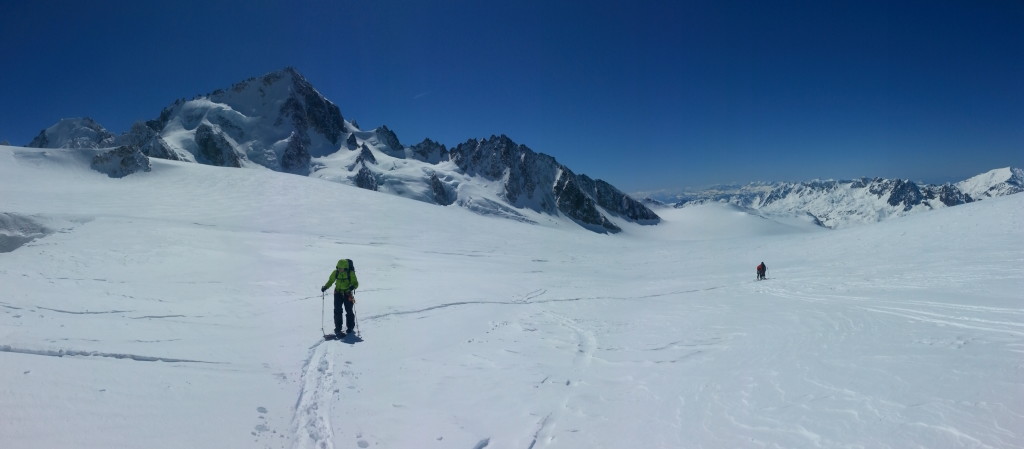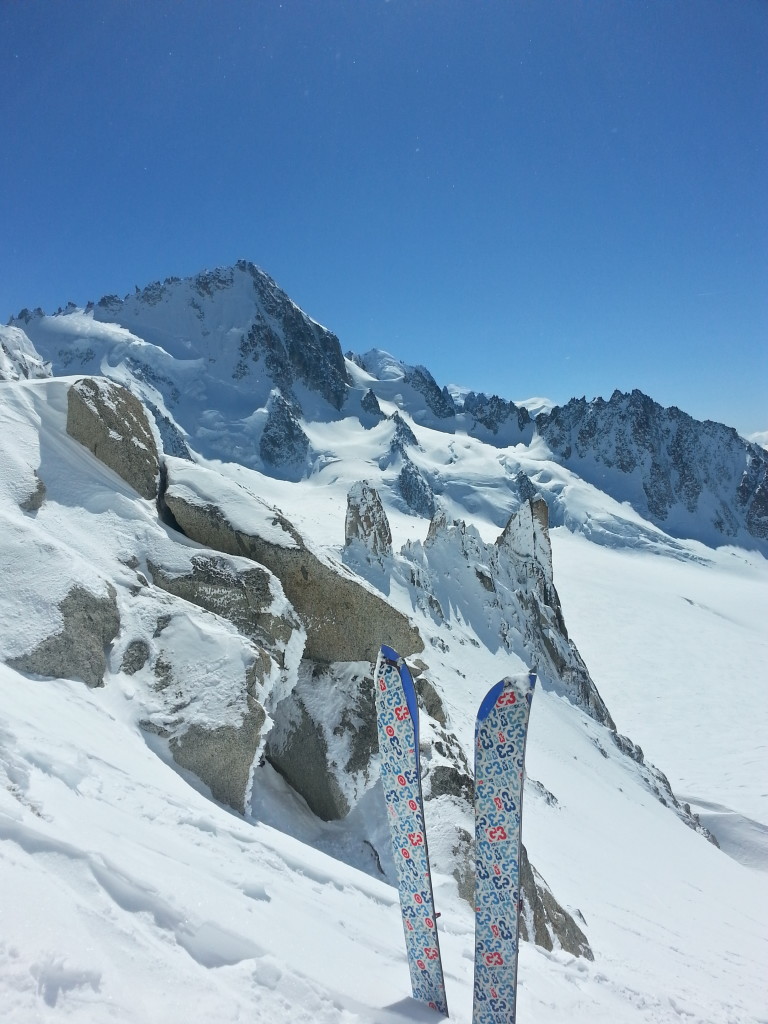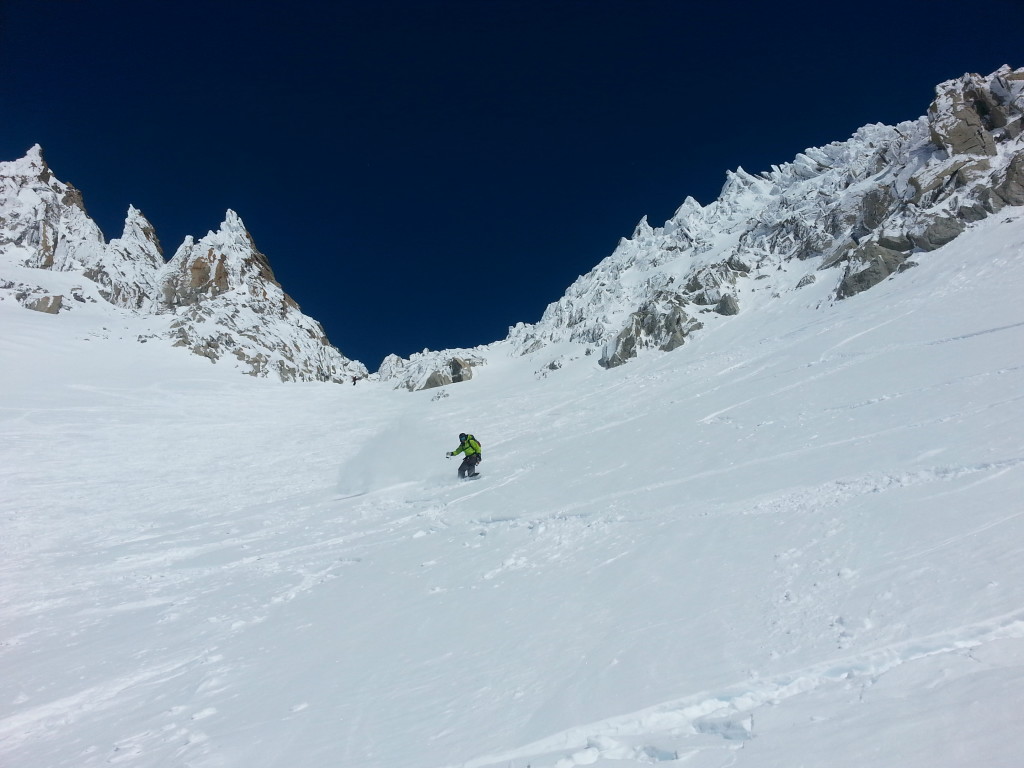 The hut was rather quiet, with just two other groups there, and we were able to have a peaceful evening, catch a breathtaking sunset over the Aiguiles Rouges and enjoy some delicious stew and couscous before calling it a night.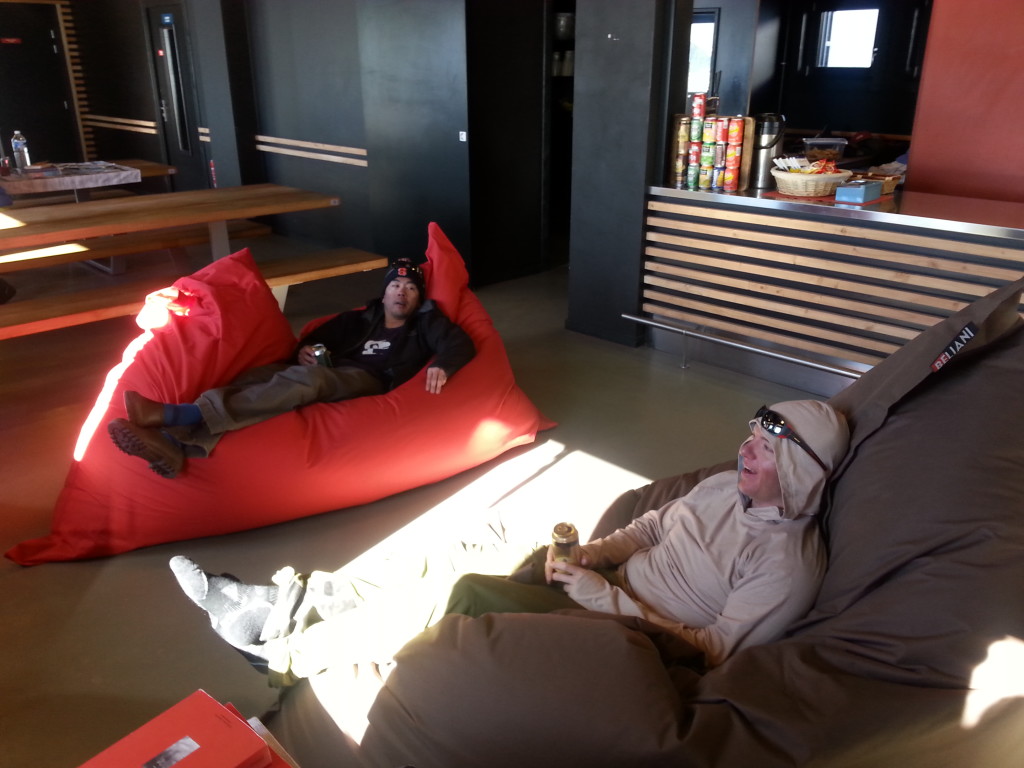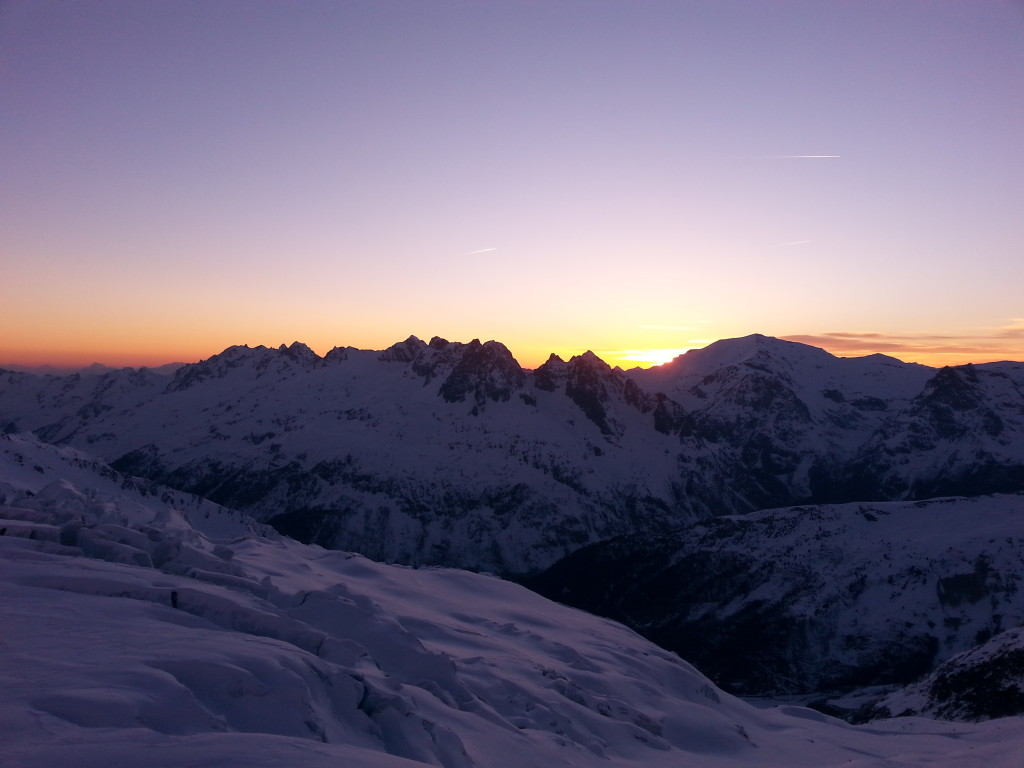 It was a hard day of touring and the ride conditions were not great, but it was a beautiful day and we were all glad to be living life up high in the mountains.
Wednesday, April 8
Up again in the morning at a fairly reasonable time2, ate some breakfast got ready for the day and then stepped outside to put on the skins and begin our day's adventure: les 3 Cols.
Arnaud set a slow but steady pace and we made good time up le glacier du Tour and finally up to the col.  The final part was a bit steep, but we managed ok and the snow stayed in place.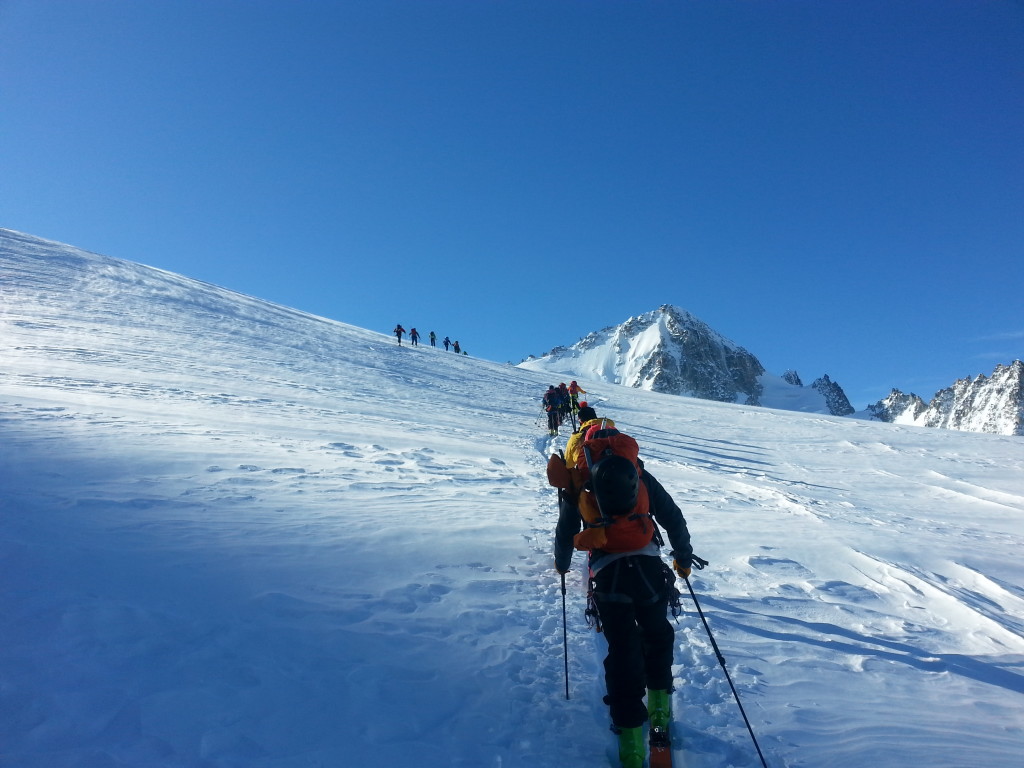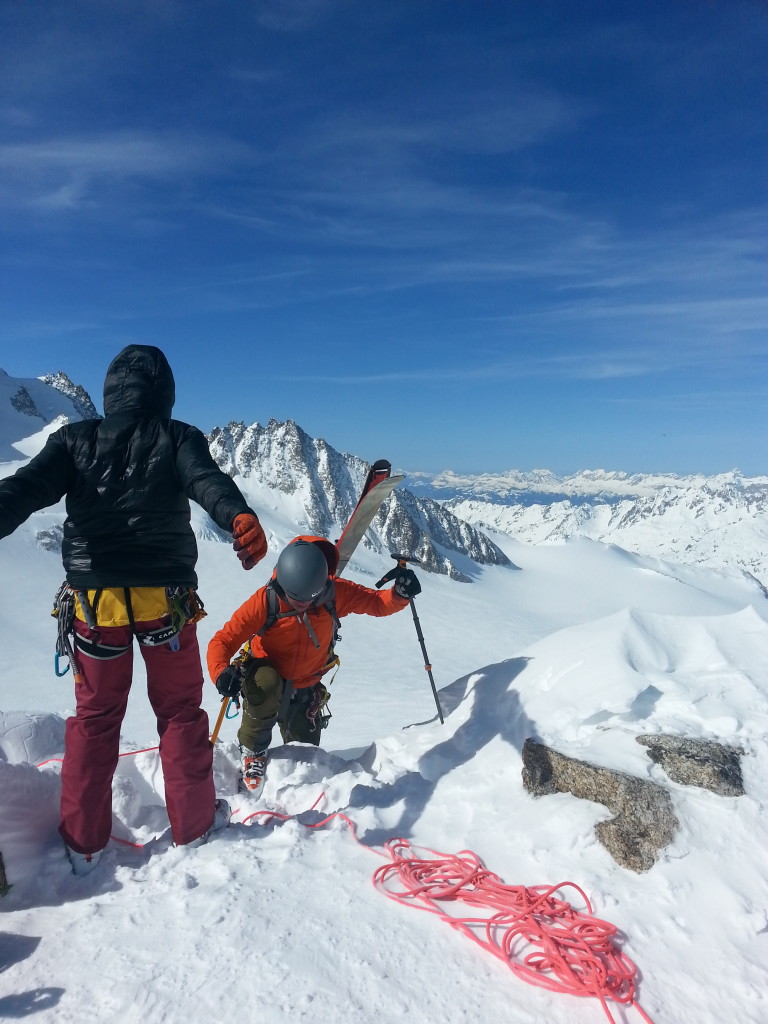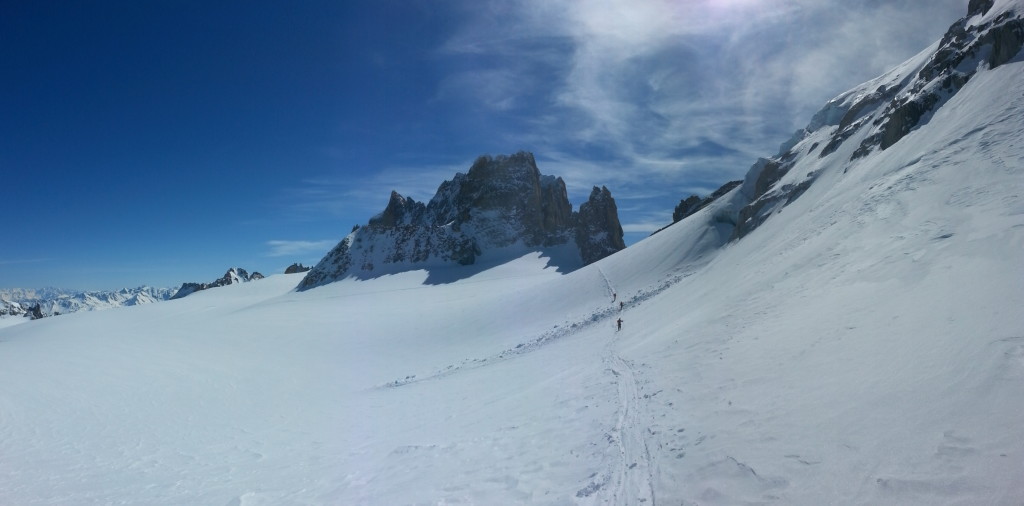 We then made our way around to la fenêtre de Saleinaz where a short but steep and fun slope awaited us on the other side.  It wasn't really necessary, but Arnaud had us practice a bit of ski rappel here in case we'd need it in the days to come.  We each descended a bit with the rope before letting it go and making some turns on the firm but edgeable surface.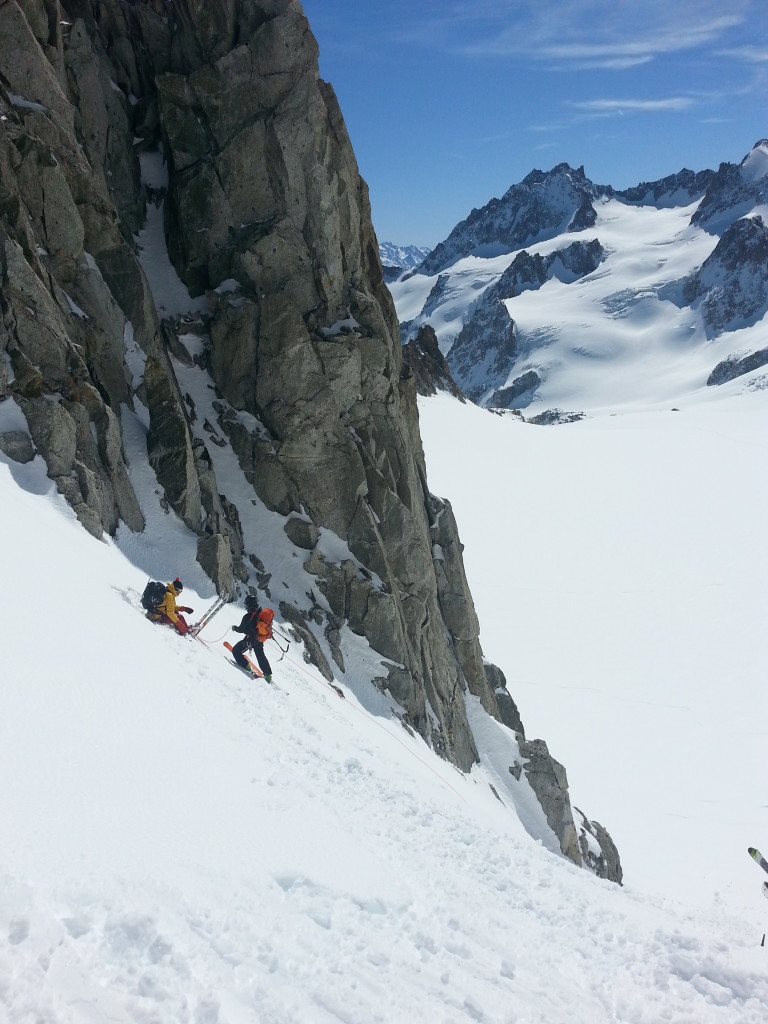 Next up we put the skins back on and went around to the base of the couloir heading up to the Col du Chardonnet.  Here we had to wait a bit for some other parties, but then Araud was able to climb up using the fixed line before dropping us a belay and we proceeded to climb with the boards on our backs.  When we finally got to the top we saw a gnarly pencil thin couloir across the way with 2 skiers descending.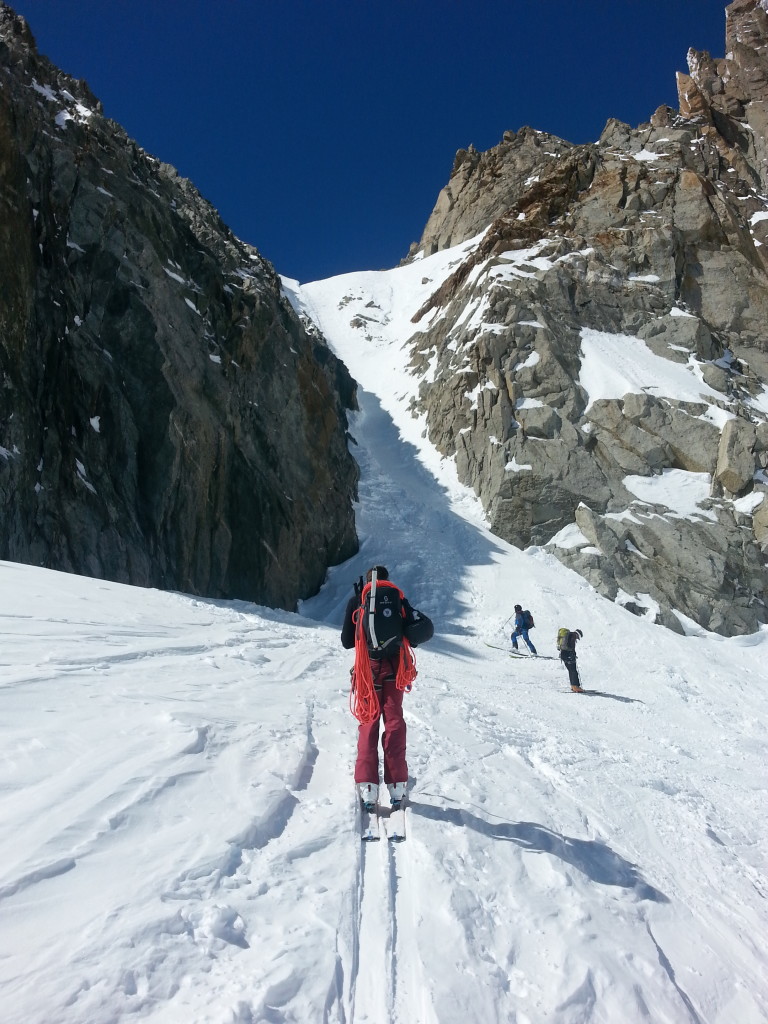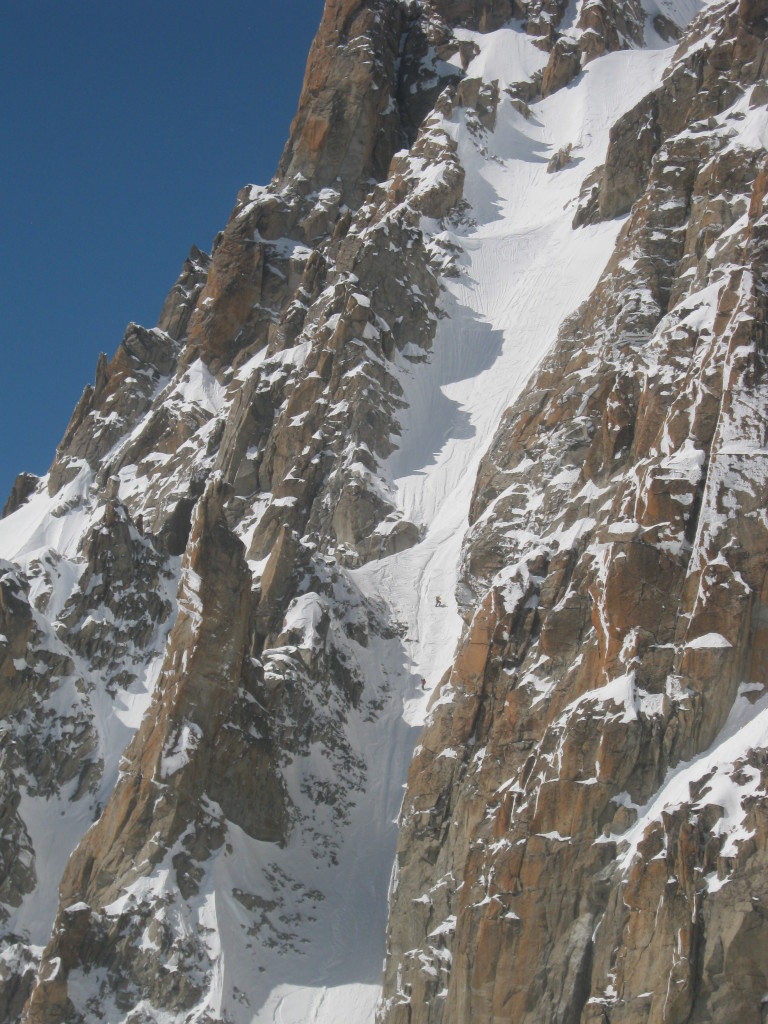 By that point it was getting into the afternoon and we were starting to get some decent spring snow.  We had a pretty fun, if tricky, decent 3 before getting down to the Glacier d'Argentière, putting skins on once more and making our way to the Refuge d'Argentière where we'd be spending the night.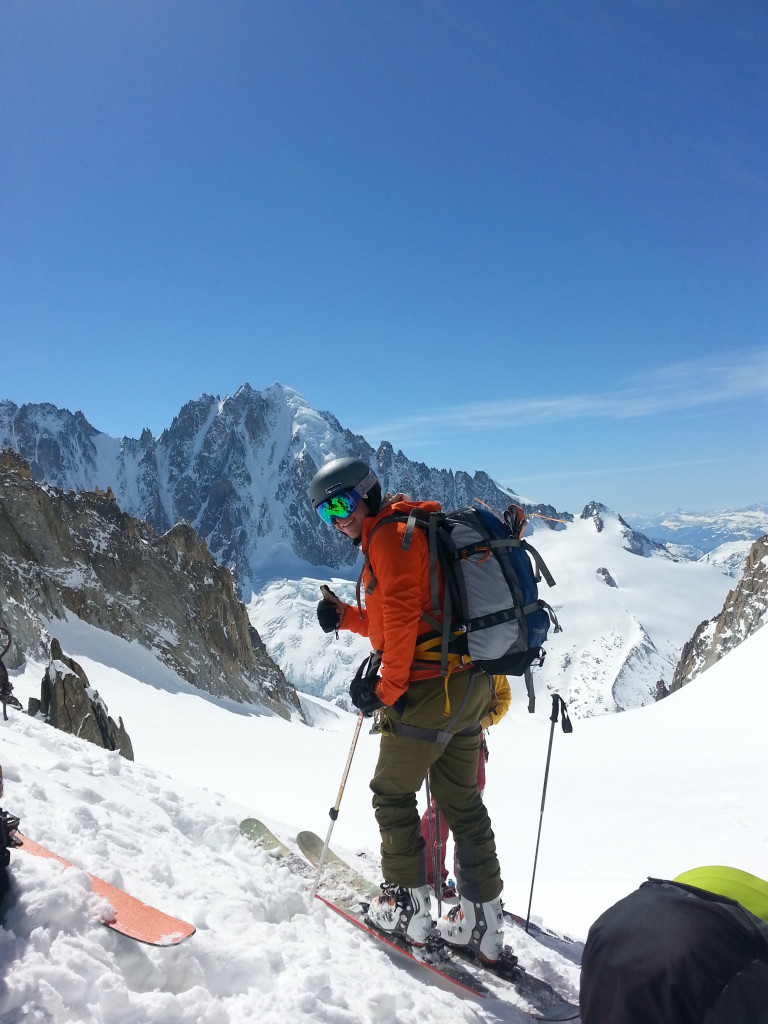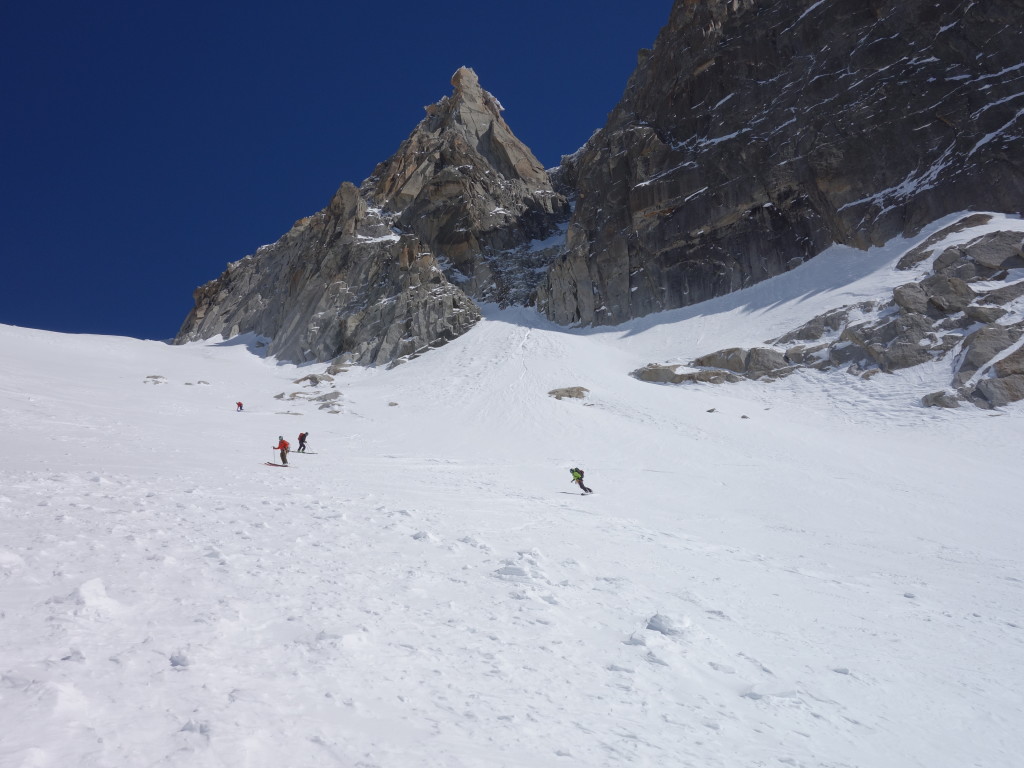 On the final approach to the hut, walking across the moraine,  Roger and I were lagging behind a bit and had a little too close for comfort interaction with a late day wet-slide coming down from above.  Fortunately we heard the "attention!" call from some folks at the hut in time to stay in a safe location as it slid by, but it was a good reminder to always be on your game in these big mountains.
After resting on the deck , drying out our gear and rehydrating with some beers we went inside for another tasty dinner4. Hanging about inside were a huge contingent of mountain rescue folks preparing for a night time training exercise.    Hard to believe that these guys were going back out into the gnarly terrain surrounding the hut after the snow had refrozen, but these guys were the real deal.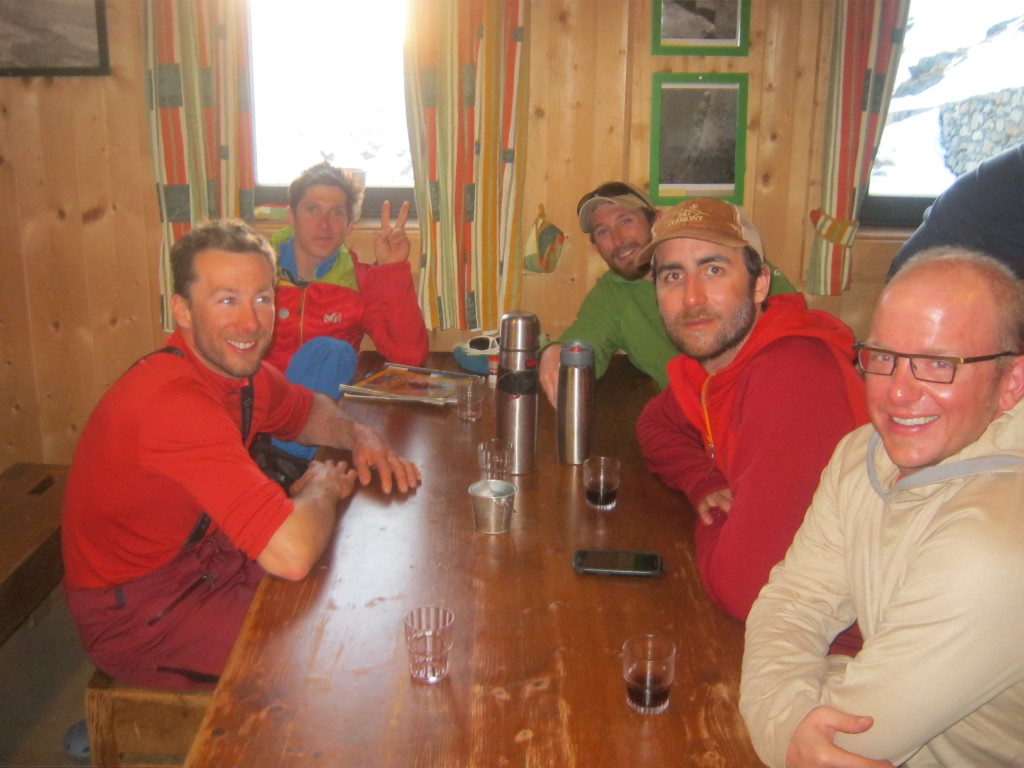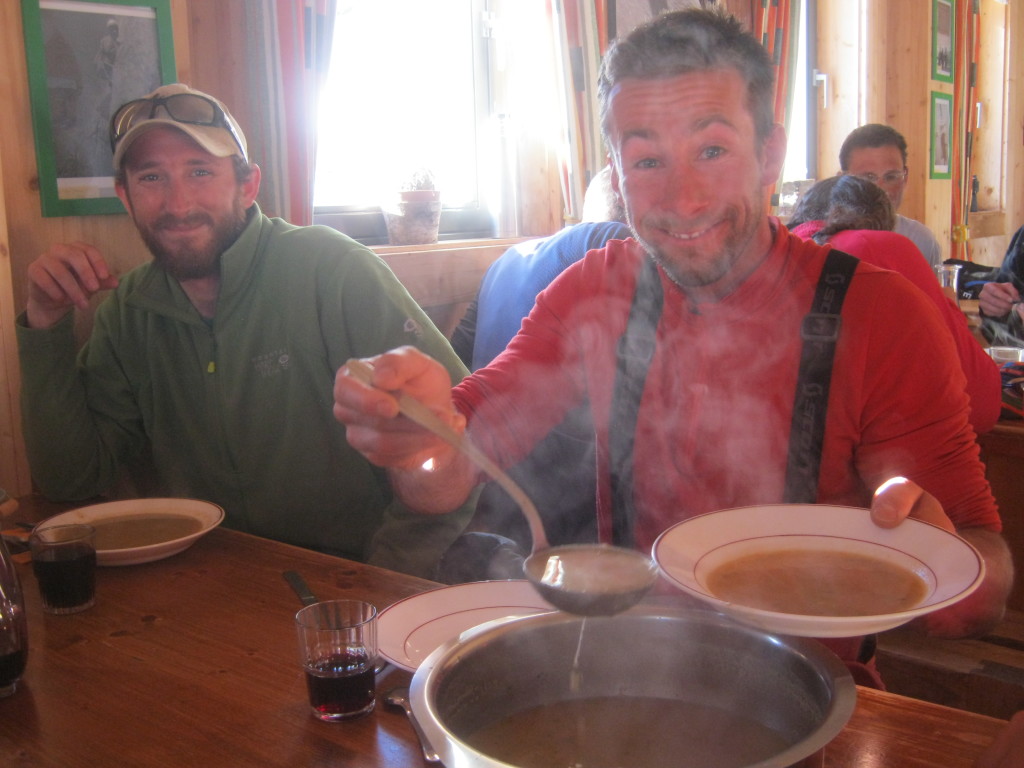 Thursday, April 9

Shortly after we arrived at the hut the previous day we were joined by Antoine, another guide de haute montagne who Arnaud had recruited to accompany us the next two days for the real steep stuff.  So on Thursday morning the 6 of us: 2 guides and 4 clients began what was to be our most ambitious day of the trip: a climb and descent of the Aiguille d'Argentière by way of the Glacier de Milieu.
The snow was quite firm and we had to traverse several old avy debris piles which made for some interesting and challenging skinning.  Still we were making good time and even got a bit ahead of schedule at one point.  Finally we skinned as high as we could go and switched over to crampons.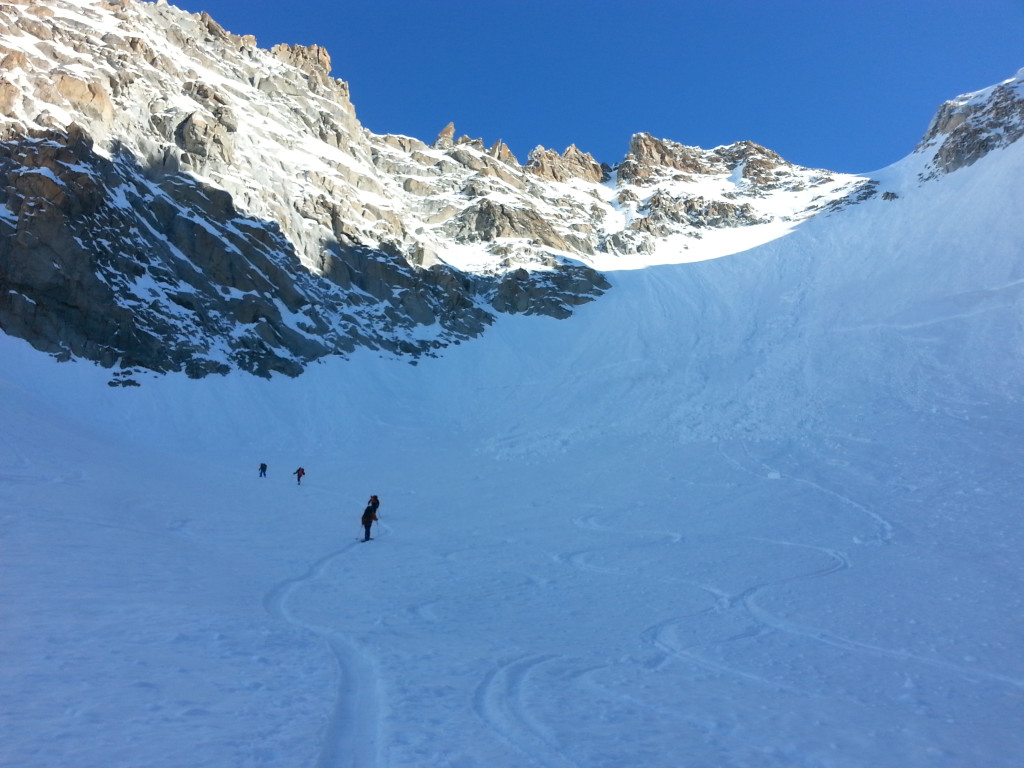 Moving in two rope teams of 3 we climbed the steep top section slowly but with purpose.  This was tiring stuff, especially after all we'd already done that week.
Finally after only a few moments of doubt, and with Antoine and Arnaud's encouragement, we made it to the top of the skiable section, ditched our board and made a final push to the summit.  What a site to behold after one of the bigger climbs of our lives… simply breathtaking.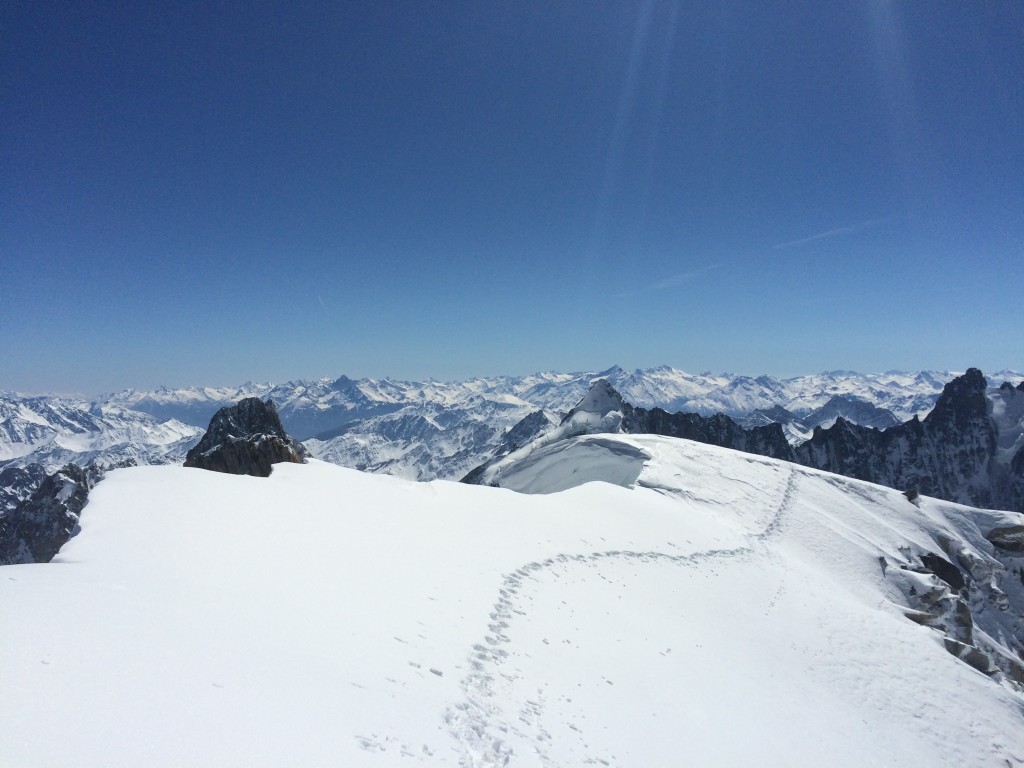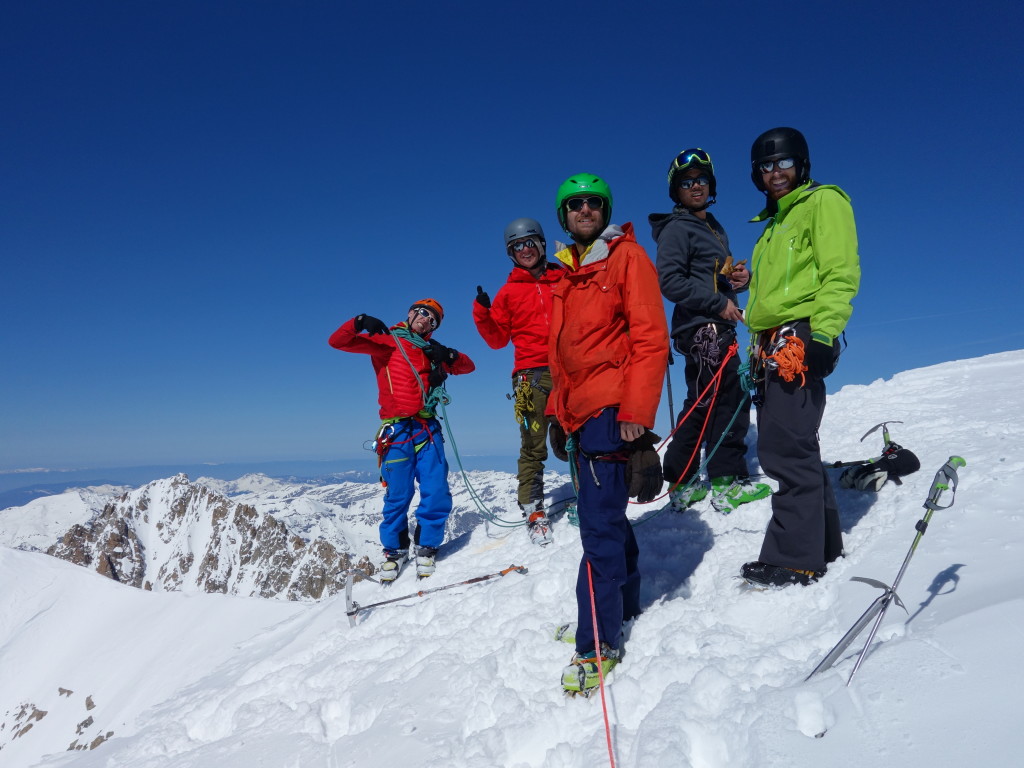 We carefully made our way back to where our gear was, took our time changing over and fueling up before beginning what was to be a 2700m descent all the way down to the base of Grand Montets.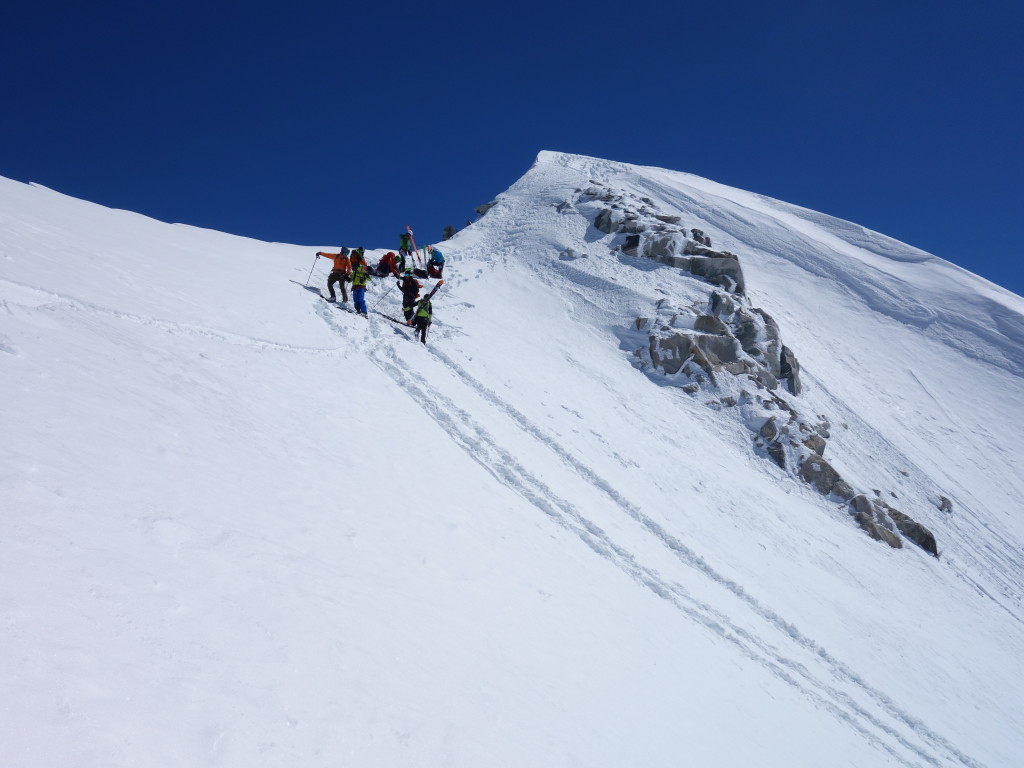 The top was steep and hairy with the snow still slightly firm.  We carefully made our way down keeping in control as a fall up there could have some bad consequences.
As we got a little lower we entered the money zone of perfect corn harvest on a steep high alpine glacier.   The guides really knew what they were doing, timing things perfectly for us to maximize the good conditions.  Wow was that awesome, we could begin to open things up and really take the fun up 11.  Still we had to be at full attention as this was some technical terrain with many hazards around5.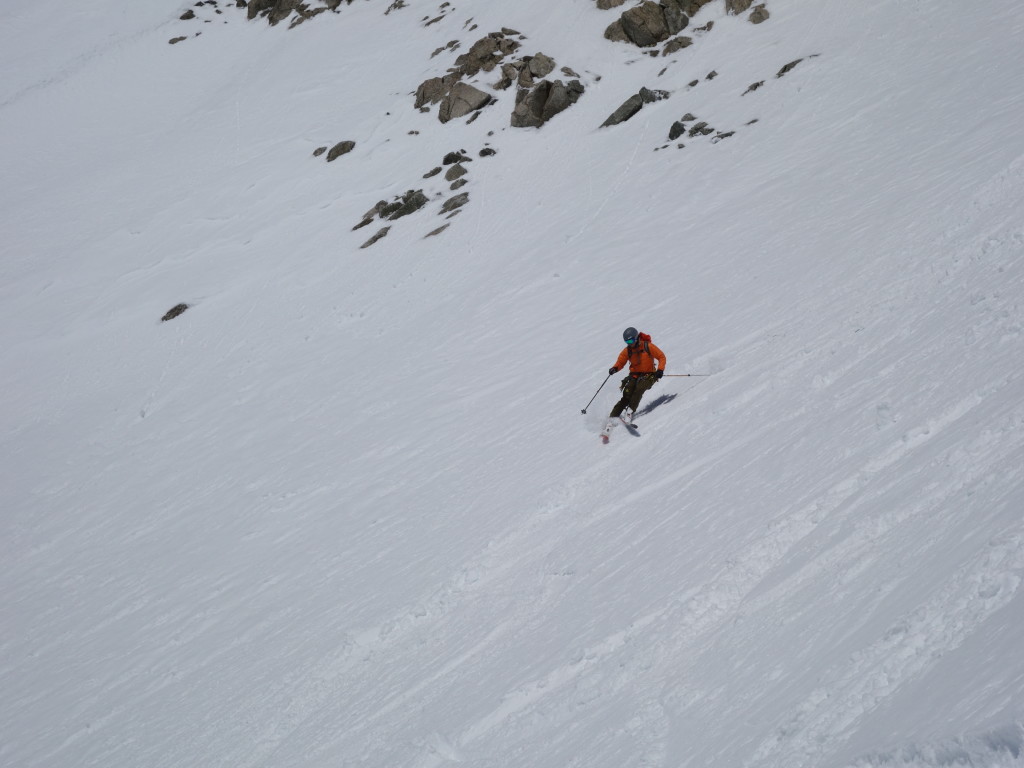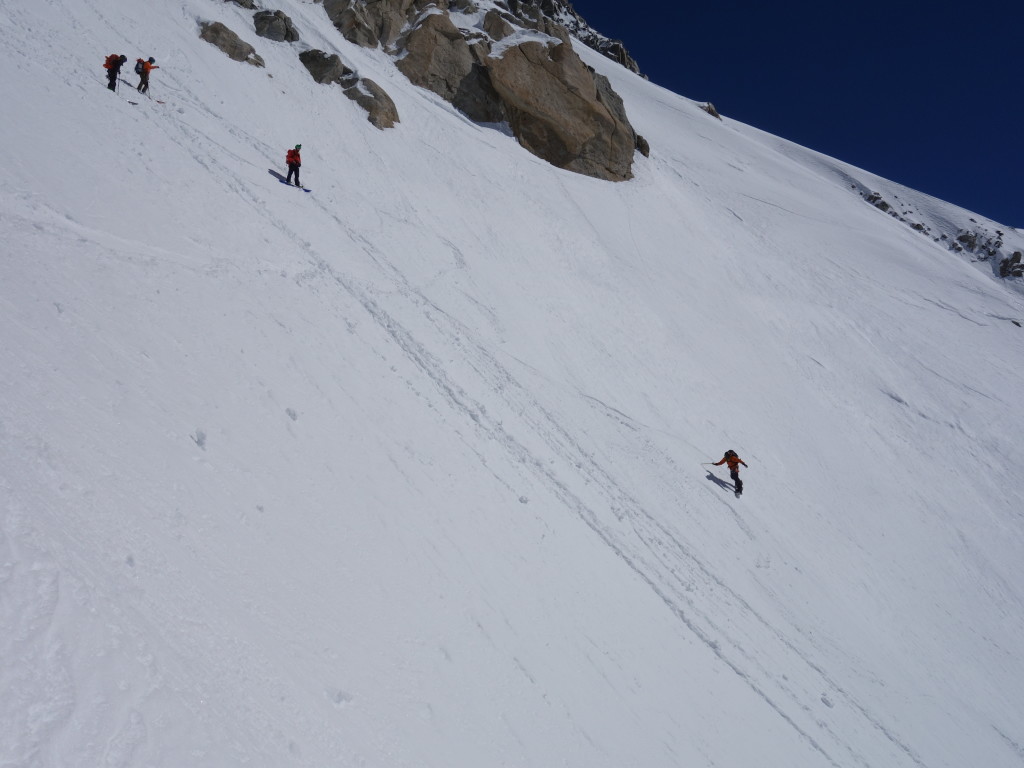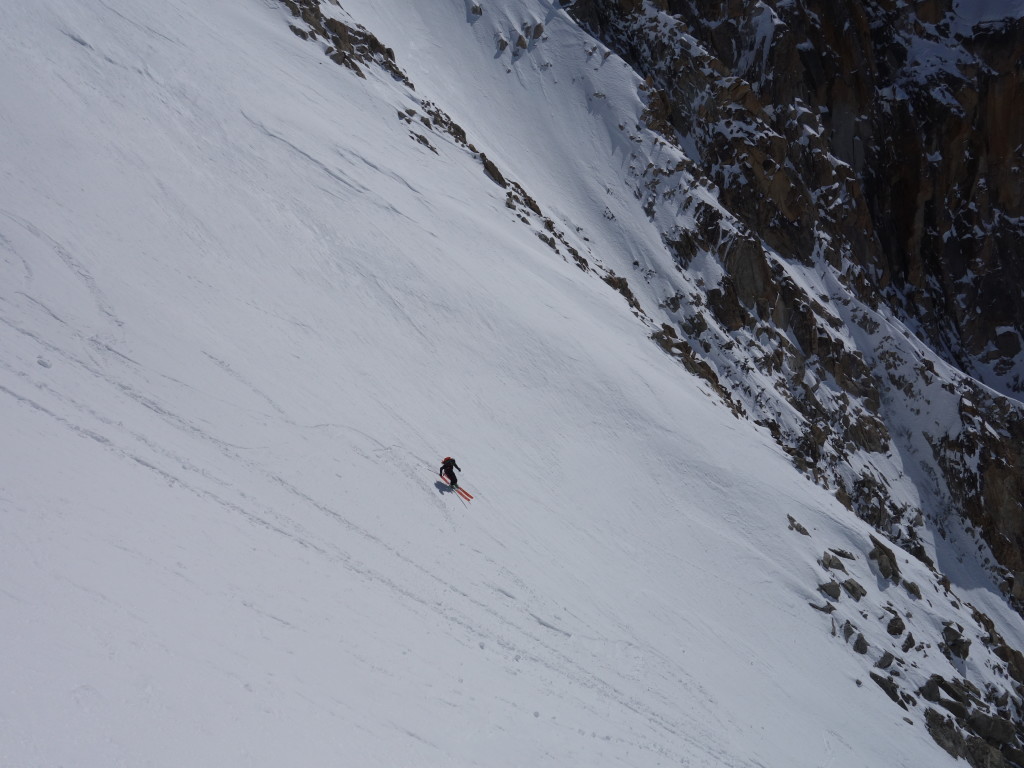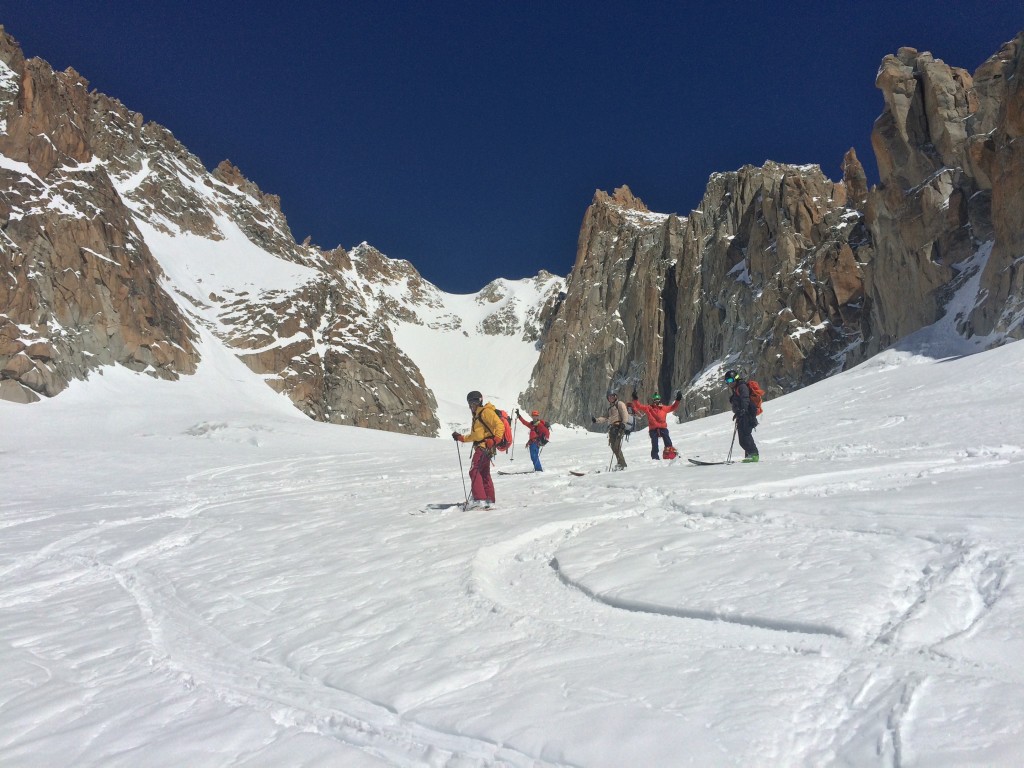 Things were definitely getting mushy as we got lower, but we were having a blast on this epically long descent.  Eventually we were back on the Glacier d'Argentière and making our way along the normal route back to the ski area.  As we returned to the piste it was a full on spring bump fest going on and our tired legs managed to keep us our feet all the way back to the car at the valley's floor.
After three days in the high alpine we were all quite spent, but still some celebratory beverages were in order.  A short drive down the road to a spot that Arnaud recommended and we all toasted to an amazing day before retiring back to a gite for the night and grabbing some local cuisine on what would be our final night in the Cham Valley.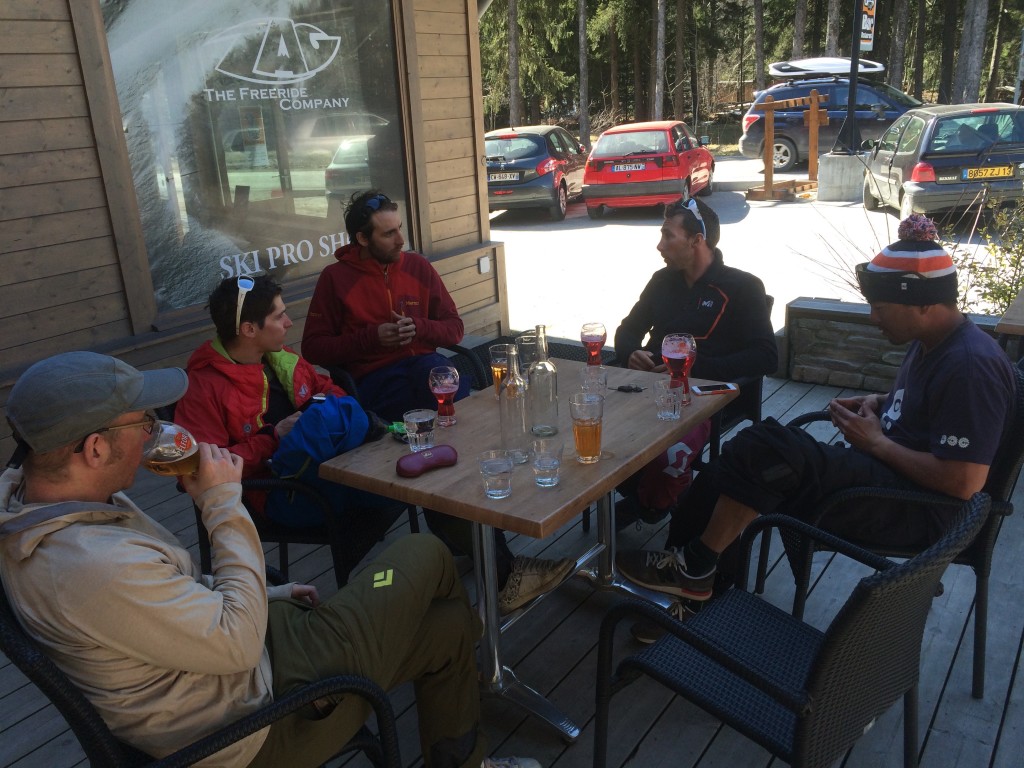 That's it for now.  Maybe I'll come back sometime with the final instalment of the trip, including one more high/steep couloir the next day + a descent down the vallée noire, before crossing over to Italy for a bit of rest, and then a final couple days in the Col du Grand-Saint-Bernard.   We'll see… maybe I'll get around to it in October when I am really itching to be on snow 🙂