Early last week I saw that there might be a good weather window in the Presidentials come Friday (reasonable temps and clear skies after two nights of freeze-thaw) so I started asking around who might be able to get over there.  I was not having much luck until Wednesday night, when I got word from Alex that he would in fact be free.
By that point the forecast was trending a little colder for Friday than it had been earlier in the week, so we opted for the shorter drive to the west side, planning to go up the ART and over to Oakes in the hopes that the more South facing aspects would be our best bet.  Turns out that was a good call.
I'm not super familiar with the names of the lines over there, but we managed 3 good laps on that side, hitting some fairly mellow terrain in the center of the ravine, followed by Double Barrel, and then one of the tight steep lines on the other side (Funnel?), which were all awesome.  After that we booted back up and over and traversed across to ride down Ammo South.   Really nice turns in there (softening nicely by that time of day) until we had to make a somewhat sketchy snow bridge crossing (probably all gone by now), and then shwack back to the ART, which fortunately we could ride all the way back to the car.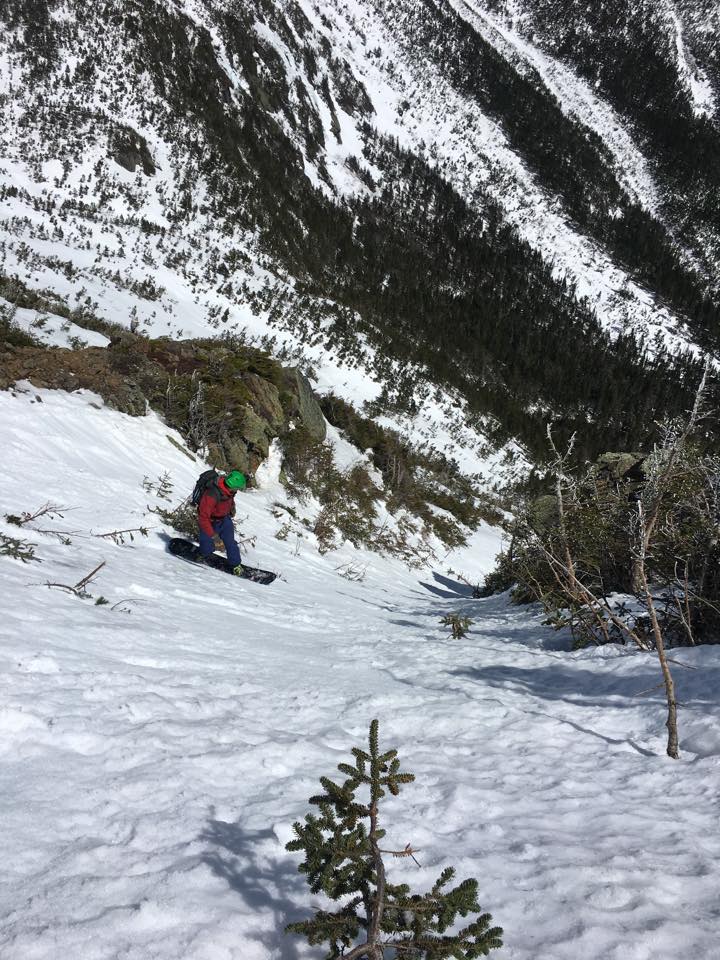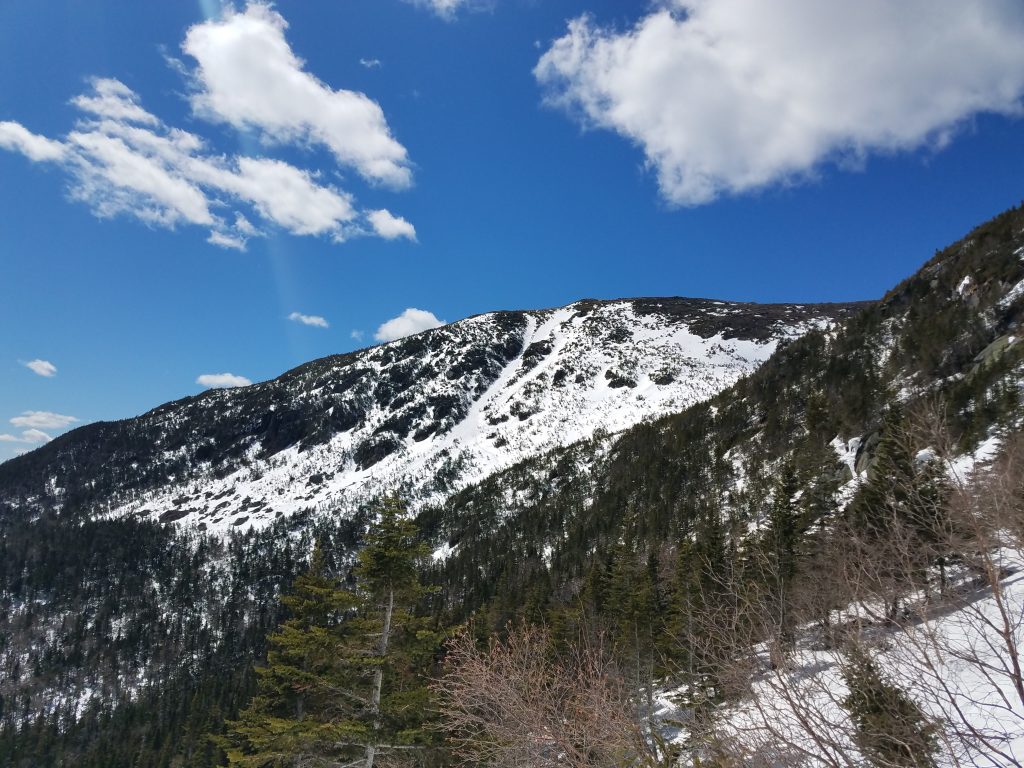 There were a handful of other groups on that side, one of which was a group of Smuggs skiers and riders that my partner knew, and they invited us for a tailgate fiesta at the end of the day.  We had a cooler of beverages and they had a bunch of extra meat, and good times were had by all.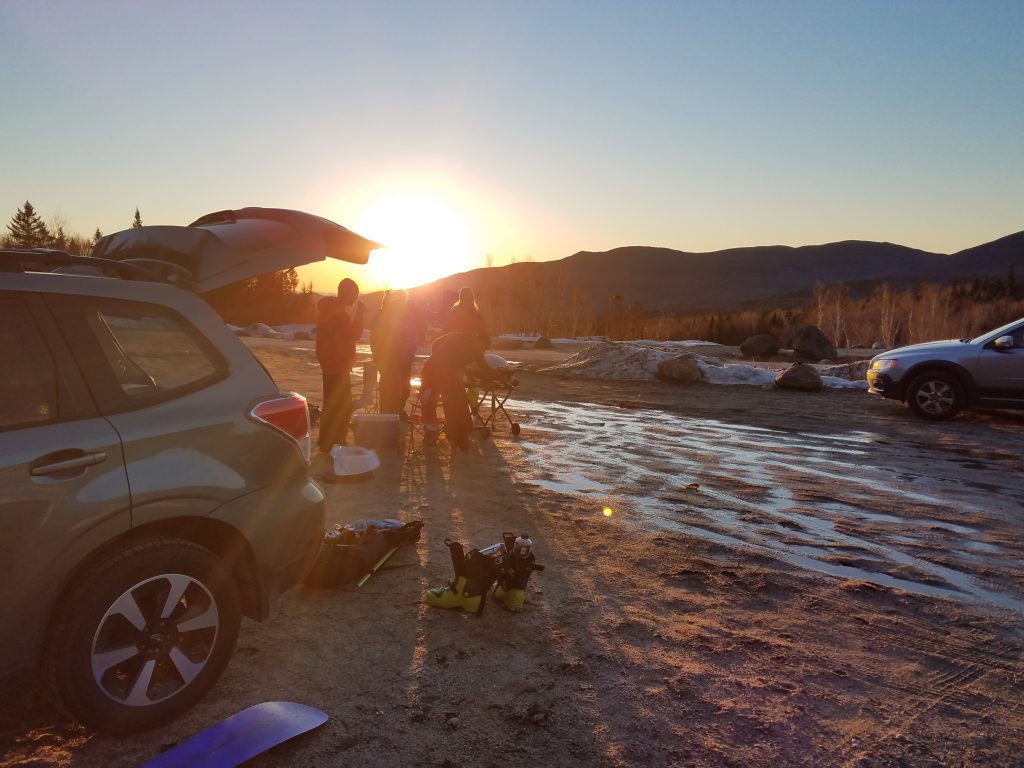 Unsure of our plans for Saturday we had reserved the cheapest room we could find near the cog, which happened to be in Franconia.  Not the best location since we ended up deciding to drive around to Pinkham Notch Saturday morning, but hard to beat $30 apiece for a shower and a decent bed.
We arose early Saturday morning, hoping to beat the crowds to the lot at Pinkham Notch, and managed to find one of the last spots in the lot around 7:15.  Quite the different experience from the < 10 cars that were on the West side the day before (by the time we hit the road early afternoon cars were parked along Rt 16 all the way to Wildcat).  We were unsure of our plans when first arriving (had thoughts of Dodge's), but knew for sure that we wanted to avoid the crowds in Tuckerman.  When we parked and looked up, Huntington was calling our names, so we decided to at least head there to get a closer look.   Pretty pleasant skin up the TRT, but not exactly the sense of isolation I like to have in my backcountry adventures.  So, in order to escapes the masses, we ducked off the first chance we got onto the HRT.   That was pretty overgrown and had a few interesting water crossings, which slowed us down a bit, but it was nice to feel like we were in the wilderness again.  We re-gained the road to Huntington and ascended the rest of the way into the bowl.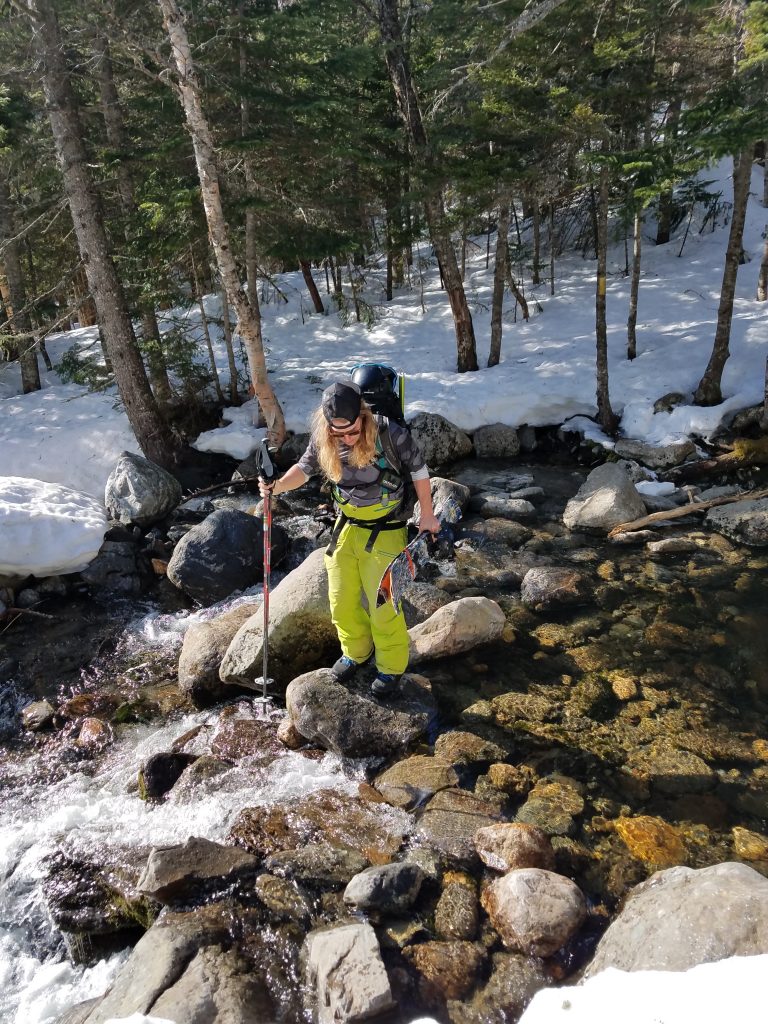 Once we got to HR we examined our options.  Our initial idea of Diagonal looked out, but Central Gully was looking really nice with all snow in the choke.  We skinned up as high as we could go before switching to crampons and breaking out the axes.  After an exhausting, but not overly challenging climb, in which we passed a few other groups (all but one just climbing, not carrying skis), we got to the top and had a nice rest on the rocks.  The snow seemed soft enough so after our legs were sufficiently rested we descended one at a time with axes in hand.
We both kept it pretty cautious above the choke, making lots of jump turns, but once we got below we were able to open it up a bit more all the way down the ravine.  Central is really an awesome line: tight, steep, and super aesthetic.  I feel quite lucky to be able to hit it in such perfect conditions, and enjoyed the relative isolation of Huntington.
We rode all the way back down to the TRT, and then ascended to Hermit Lake along with a surprisingly large number of other people just making their initial ascent after noon.  We quickly skirted through the mob scene around HoJos and started our descent down the Sherby.  Really nice snow there with bumps that were big but not overly so.  I was itching to get back to the car and get my boots and pack off and drink my extra water, so I didn't stop much, passing several others on the descent.  The snow was still going all the way to the bottom at that point (from today's avalanche bulletin I see that's no longer the case), which made it all the sweeter.
Once back at the car we enjoyed the remaining couple of beverages in our cooler before packing up and hitting the road.  We had been up there 2 days without really seeing much clouds, but by the time I got back to Chittenden County, rain was starting to fall from the sky.
All in all, an awesome two days of riding several new-to-me lines (Ammo was the only one I had done previously).  Not sure if a return trip will be in the cards for me this year, but real glad I was able to spend a couple days up there at such a perfect time.