If you missed part 1 of the story, click here
words by J. Auerbach
Saturday April 4
We had been planning on riding Saturday and taking Sunday as a rest day so that we'd be fresh when we met up with Arnaud on Monday.  But, the weather on Saturday looked pretty shitty with nair up fairly high, and thick clouds above that.  It really did not seem to be the day to be up in the mountains.
After hemming and hawing about what to do, we decided to turn it into a "cultural day".  We got ourselves some coffee and breakfast, moved rooms1, and then hit the road.
First we took a trip to the picturesque village of Gruyères and paid a visit to the H.R. Giger museum where we saw some, ah-hem, interesting pieces of art2.
Next, we continued past Bern and down around to Thun.  Why go to Thun?  To see some professional soccer3, of course….it happened to be the site of the closest match we could find: FC Thun playing host to FC St Gallen in the Swiss Super League, and les supporters de football among us really wanted to see some live football4 while in Europe, so why not?
We consumed some delicious sausages and beverages outside the stadium, and then headed in to our seats.  The stands were pretty empty, but at least they were covered5 and the match was an entertaining win for the home team6.
The day is summed up nicely by this photo montage from Mr. Stephen Waud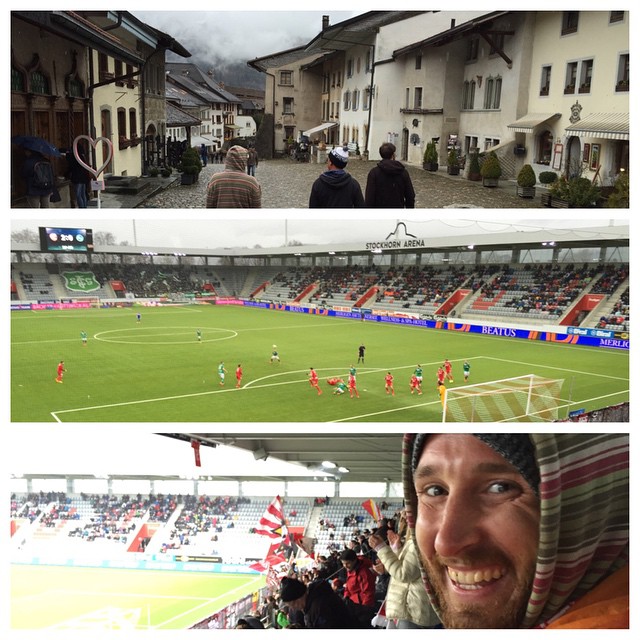 and this photo from Mr. Jason Chung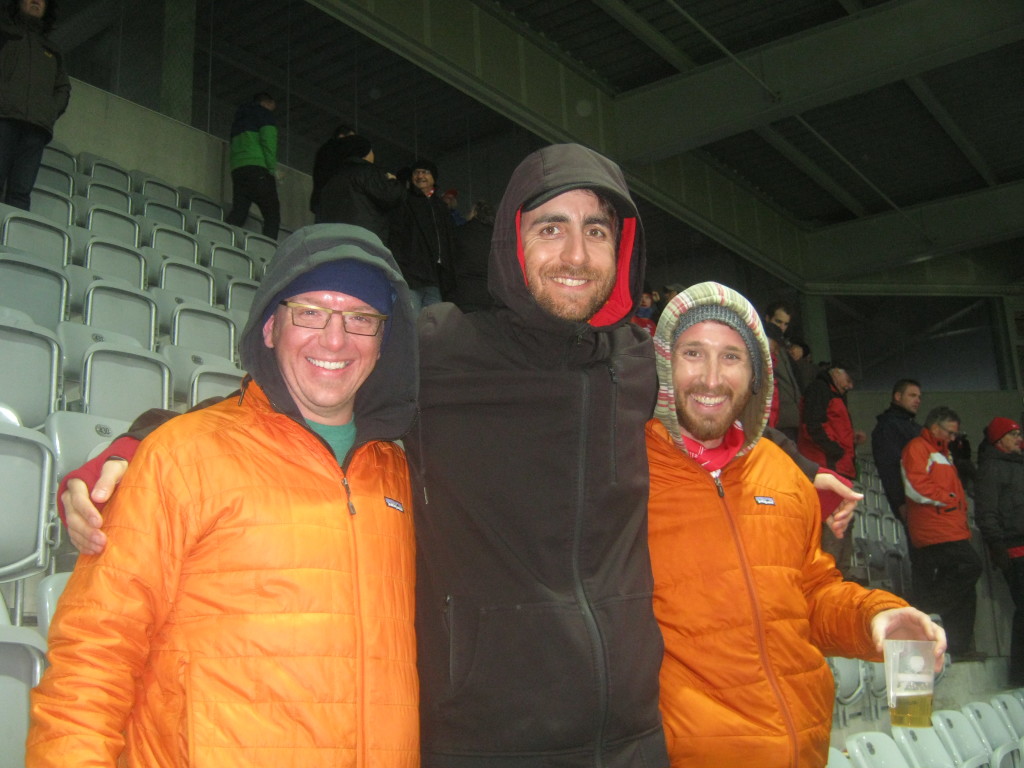 After the game, we made the long drive back to Martigny7.  When we got back to the hotel, I took a look at the weather and it seemed that there would be a decent amount of snow coming fairly low that night.  Some of the crew really wanted to make sure not to tire themselves out before the intense week that we had ahead of us, but with the prospect of fresh snow and clearing skies we finally came to a compromise to go hit Les Marecottes in the morning for some pow laps before driving across the border to Chamonix later that day.
Sunday April 5
We packed the car and drove up to Les Marecottes for what would be our second and last real lift served day of the trip.  As we arrived at the base of the télécabine8, things were looking pretty socked in. But we were there, so we bought the ticket, took the ride, so to speak, and we headed up.  Just as we approached the top of the télécabine9 the skies above us were looking surprisingly clear.  As we got to the top of the télésiège10, it was looking really nice, and we were getting stoked.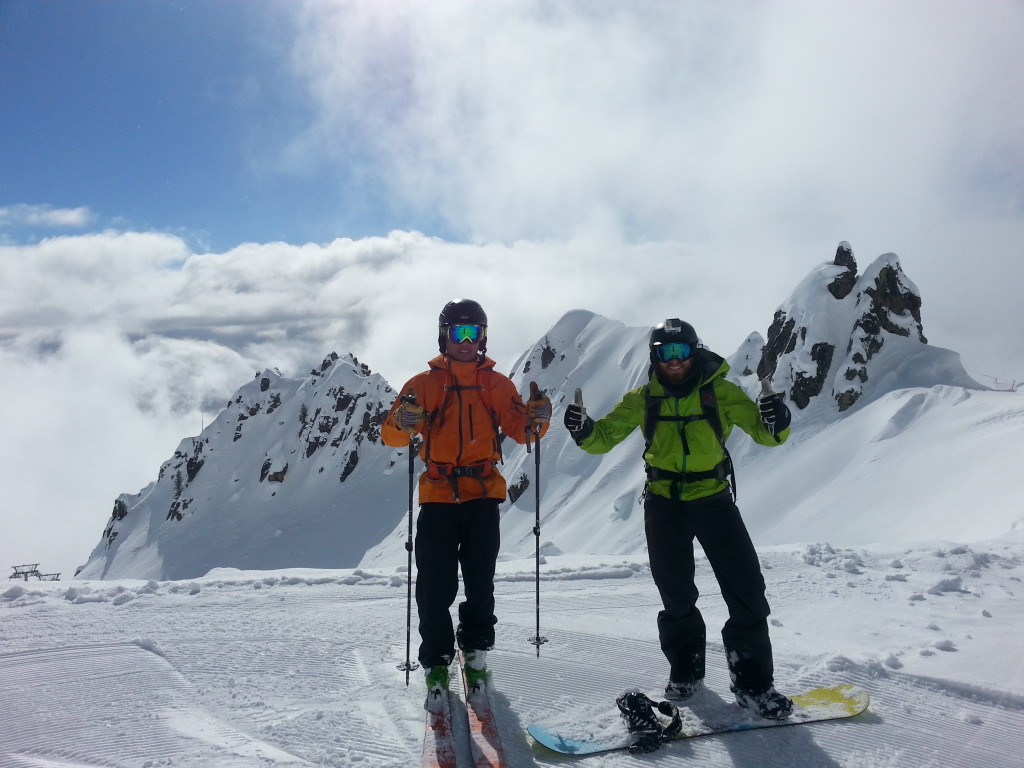 The place was absolutely empty and we were able to get some fluffy first tracks.  Some small slides that we were able to release right under the lift reminded us to proceed with caution, but we were still able to get in
a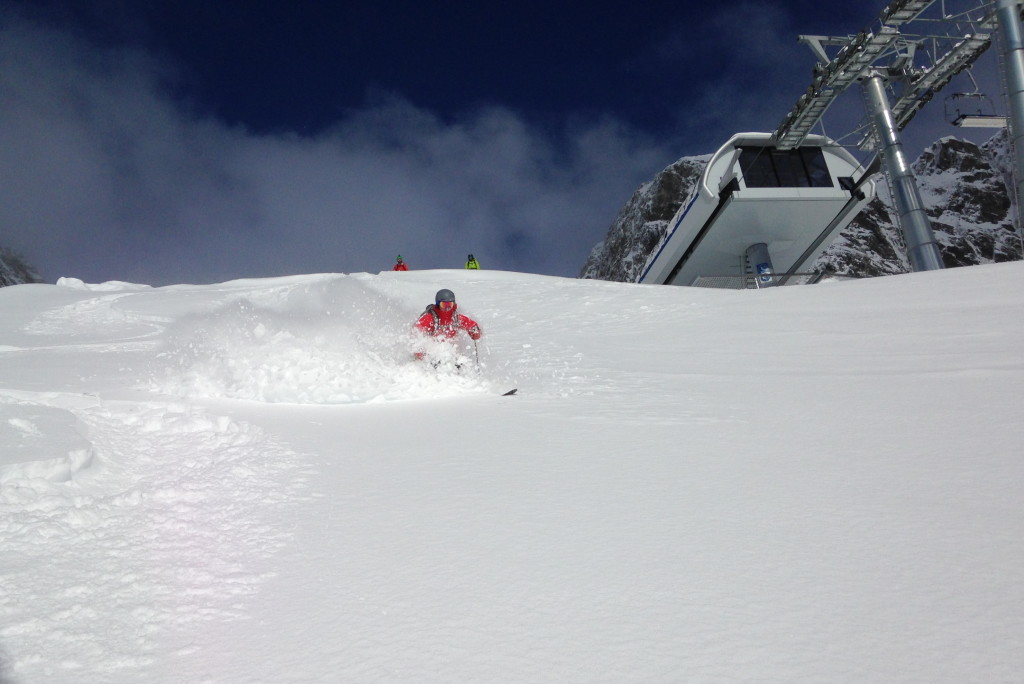 handful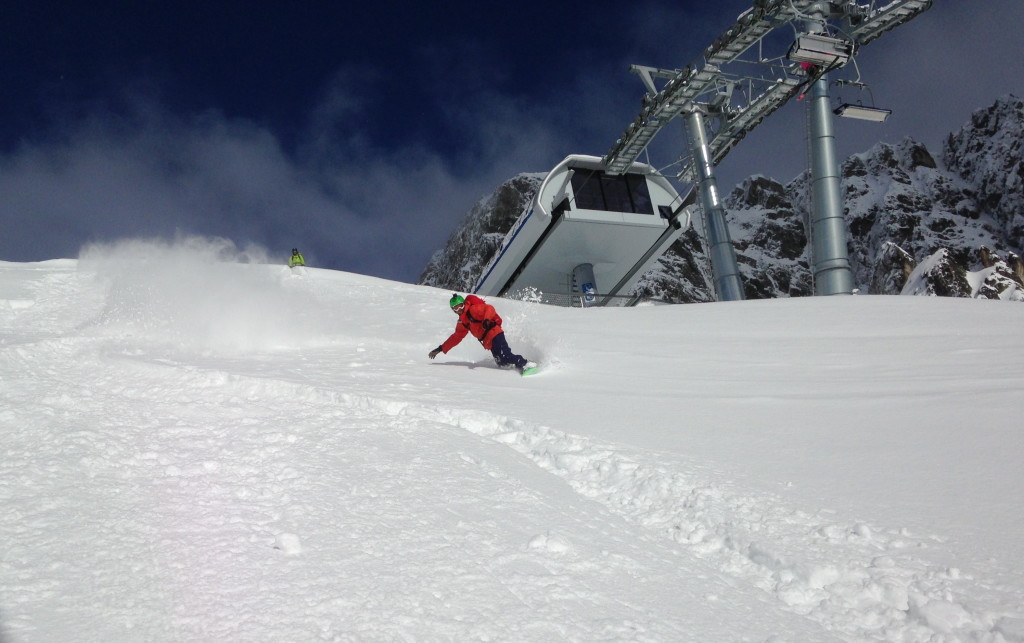 of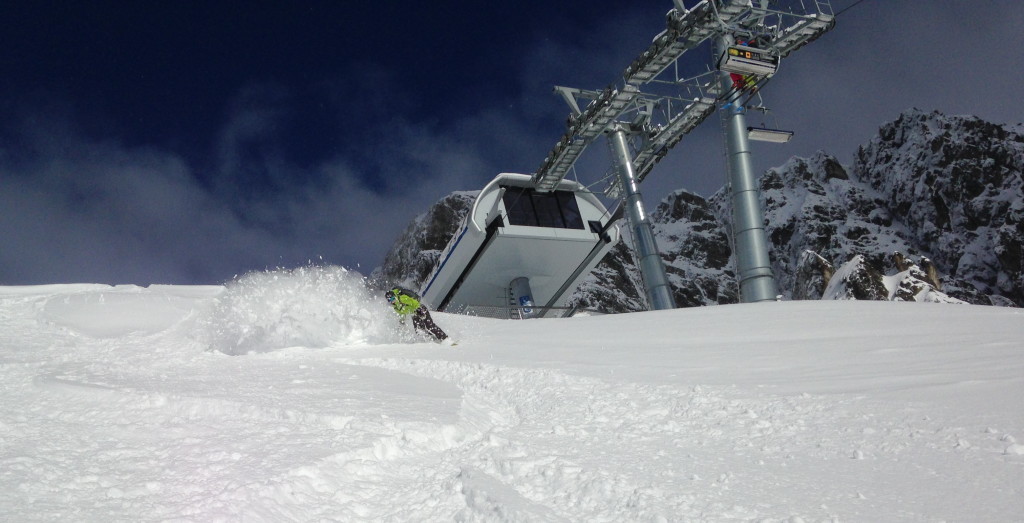 very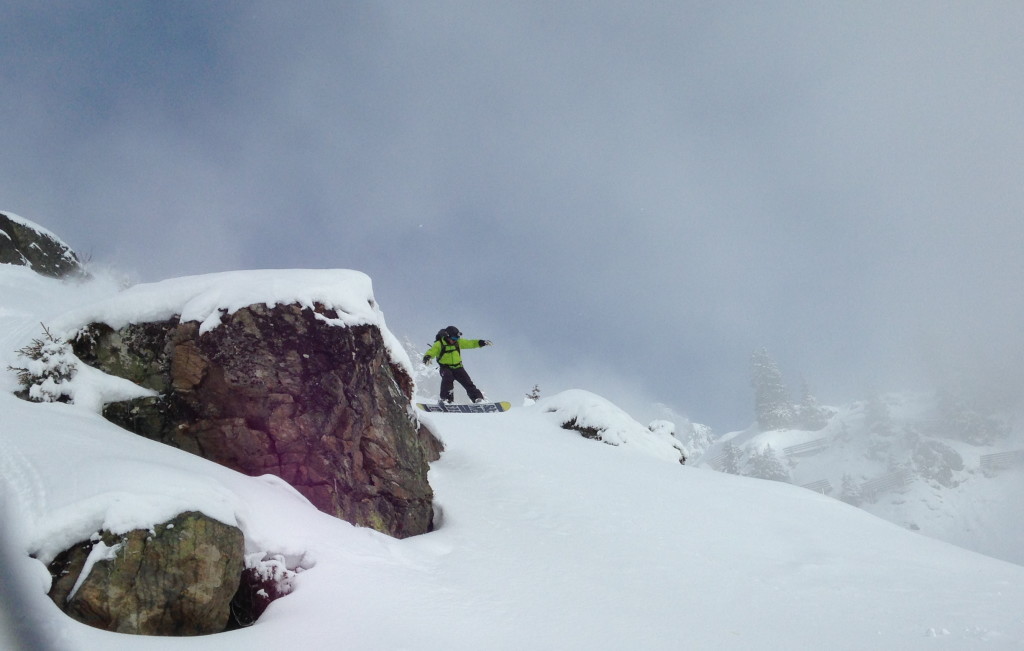 nice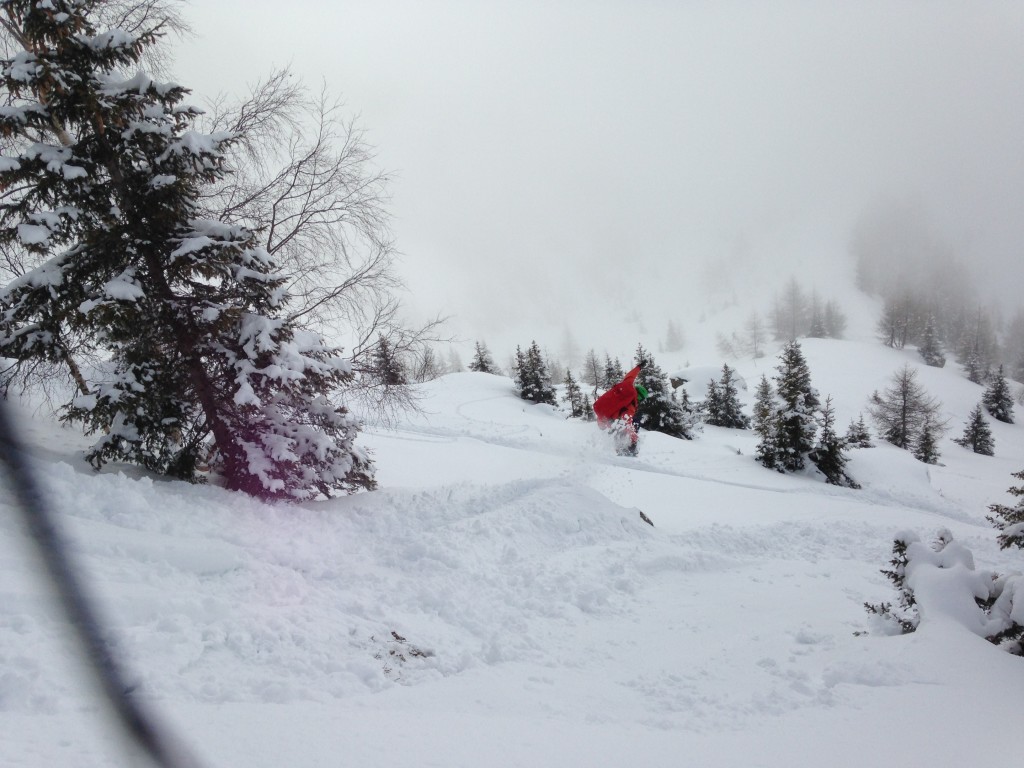 runs.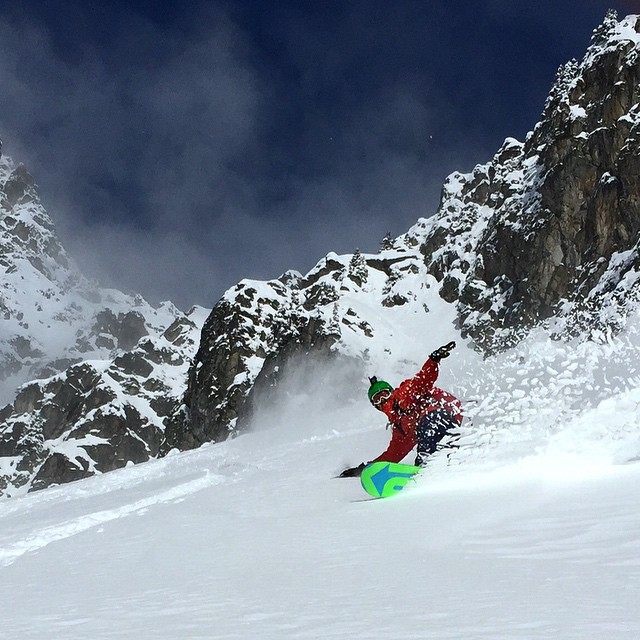 Then with the snow starting to get warm,  visibility sporadic, and us wanting to save our legs for the next 5 days, we decided to call it quits.
We took the télécabine back down, got in the car and headed for France.
When we got to Chamonix we were able to check into our hotel early and then go into town to do a bit of laundry, eat some food11, and get some skis waxed.  Then it was back to the hotel to prepare for the next day, rest up, and get ready for dinner.
Besides our days with Arnaud, the only other thing that we had planned well in advance  was one seriously heady meal.  Jason had made reservations at the 2-Michelin Star Albert 1er12 for that evening.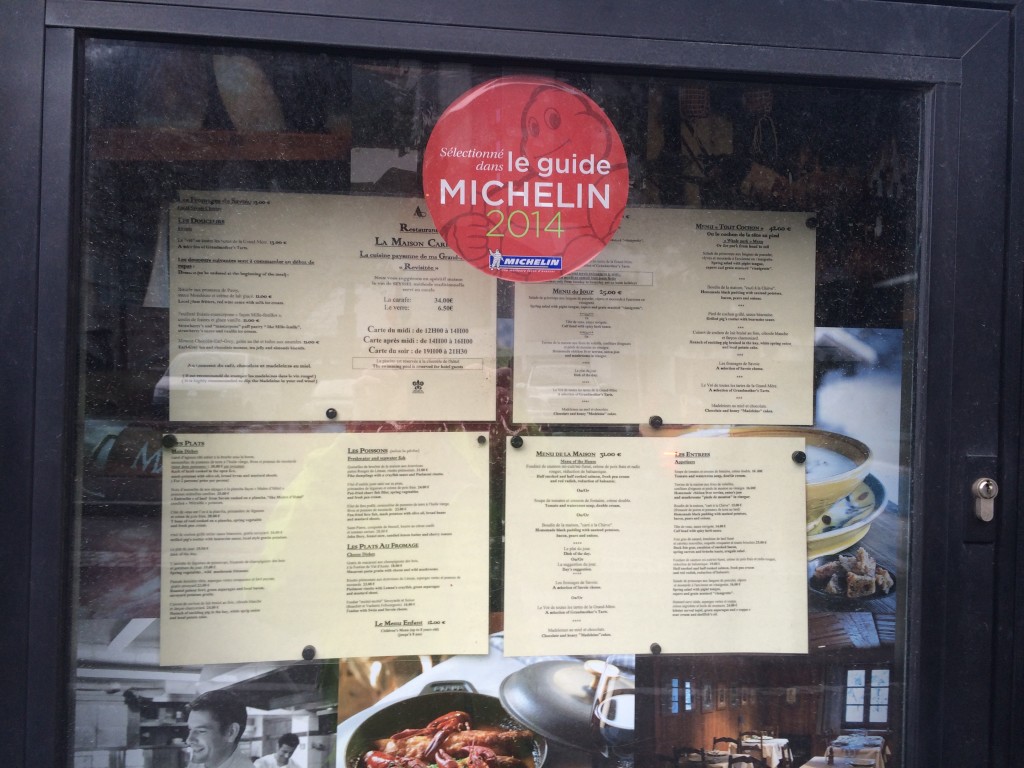 We ate some amazing food, drank some amazing wine13,  and really enjoyed the gluttony of the thing.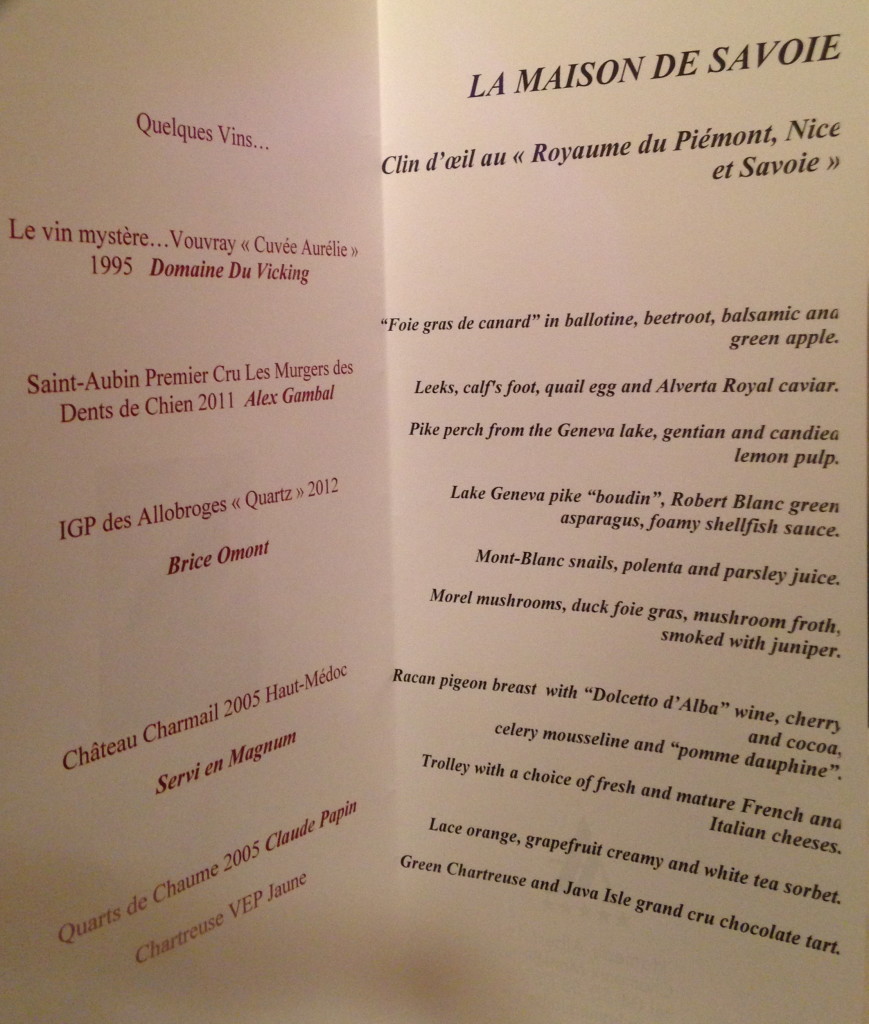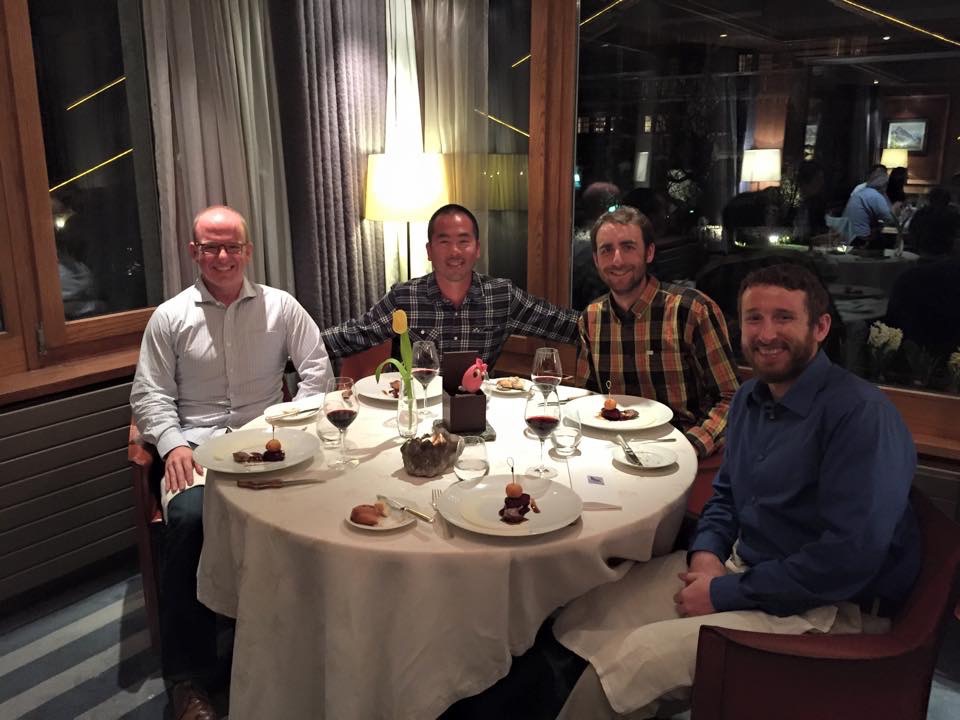 I probably won't have a meal like this again for quite some time, but it was a damn enjoyable experience, and a great way to prepare for the next 5 days of intense physical activity in the high mountains!
Monday April 6
Feeling a bit groggy from all the wining and dining, we still managed to get in the car, make a quick stop for espressos and croissants, and be in the Flégère lot in time to meet Arnaud before the first tram14.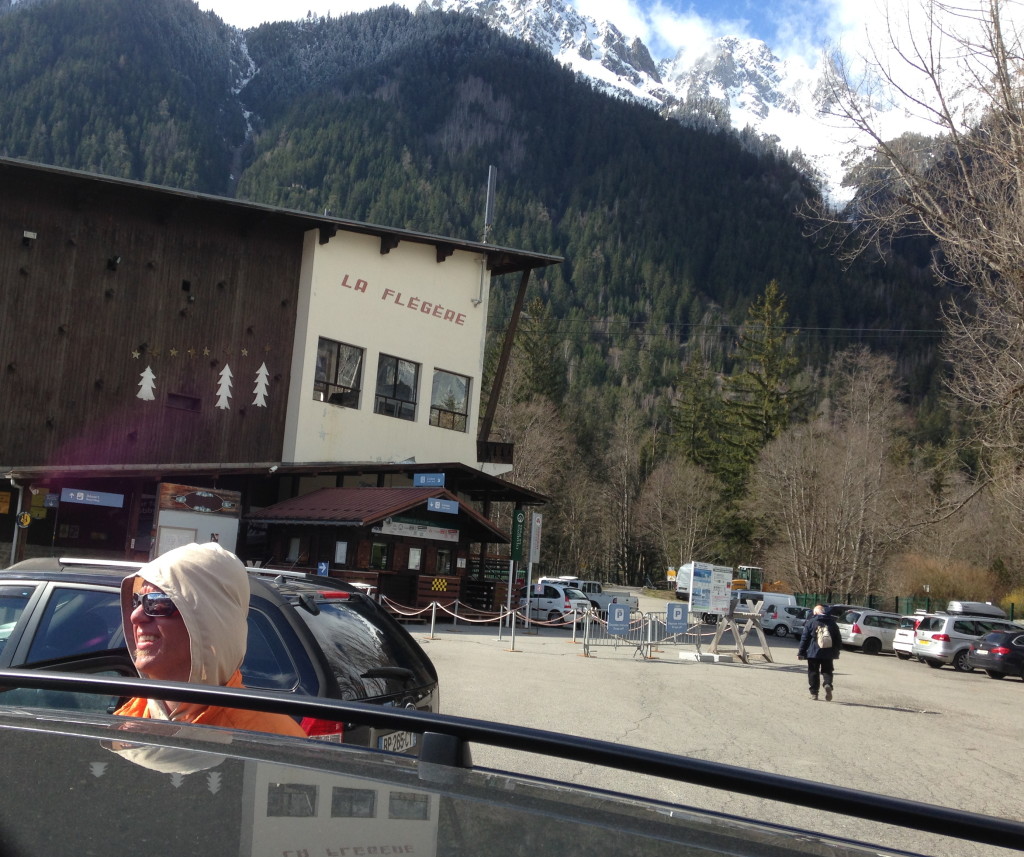 While the weather was calling for clear skies, there was a North wind shutting down many of the other lifts in the area.  This caused Flégère to be quite a busy spot that morning.
Arnaud evaluated our original plan of Le Col de la Floria as too risky given the fresh snow,  and so we, as well as many other people, climbed up to Le Col des Crochues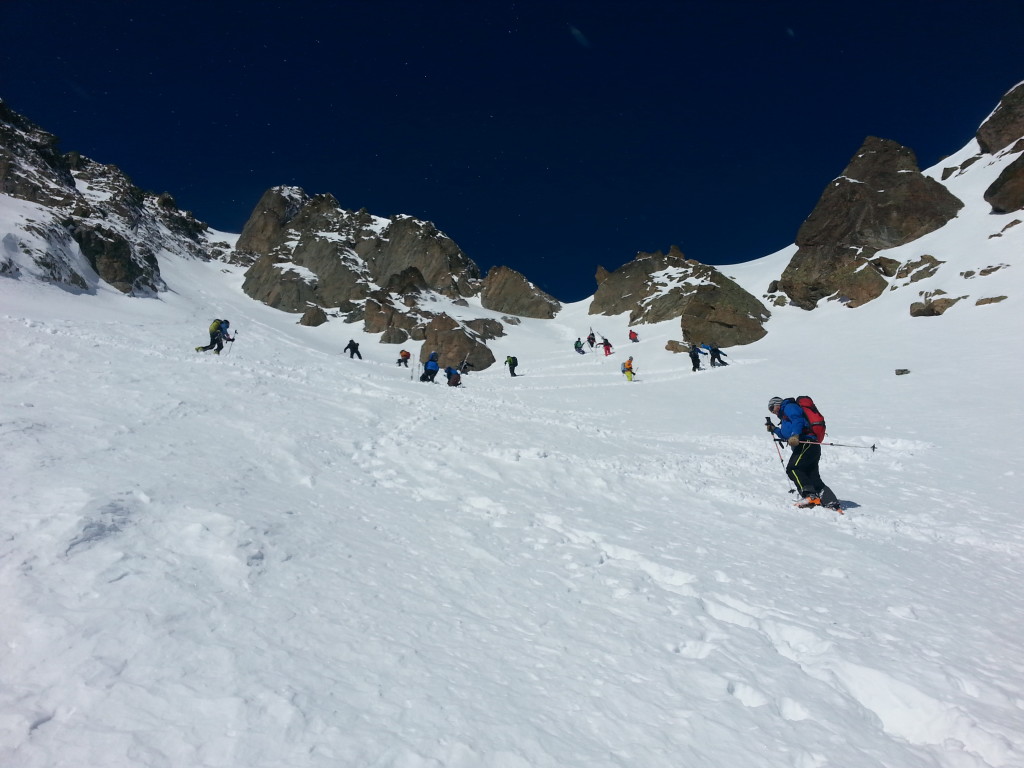 AJ was pretty stoked to get to the top.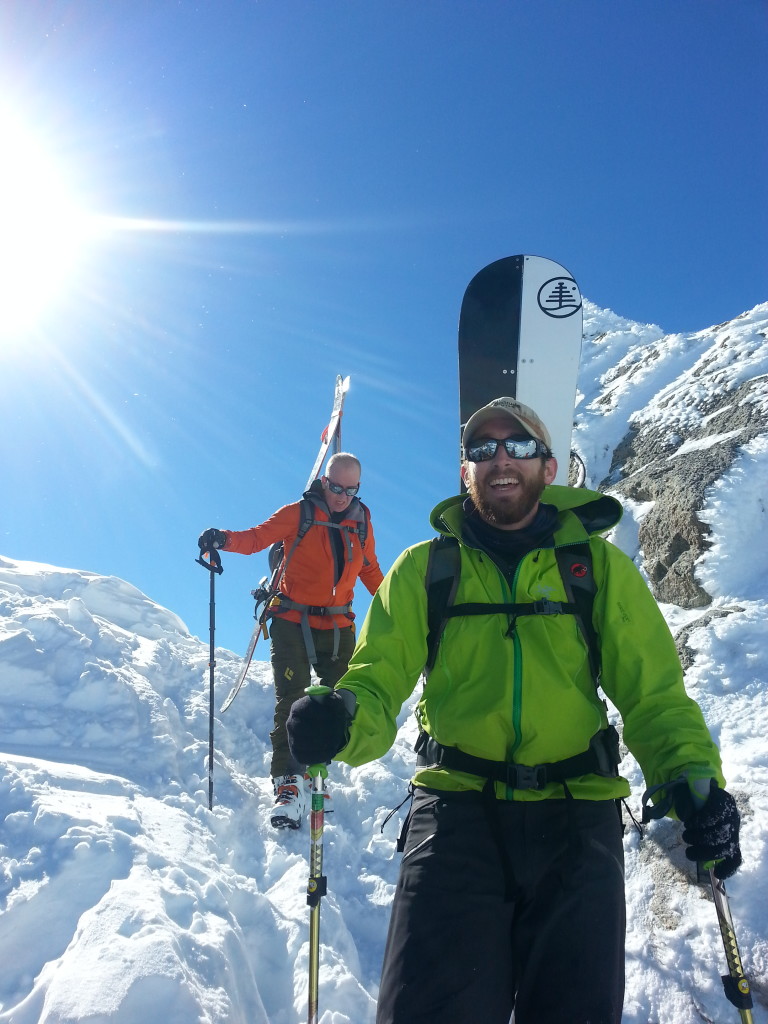 From there we descended a bit,  traversed over, and put skins back on for a climb up the couloir to La  Pointe Alphonse Favre.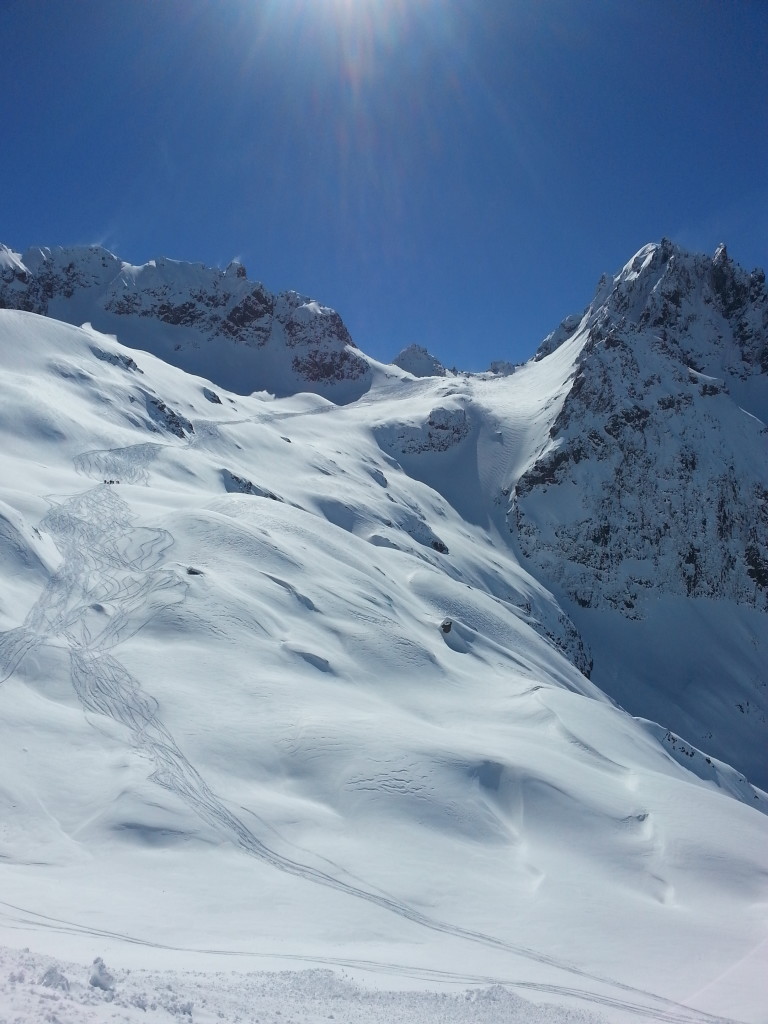 The couloir was definitely getting some sun and we witnessed one good release come past us as we were putting our skis on our backs.  We did not linger long and quickly climbed up and out of the colouir,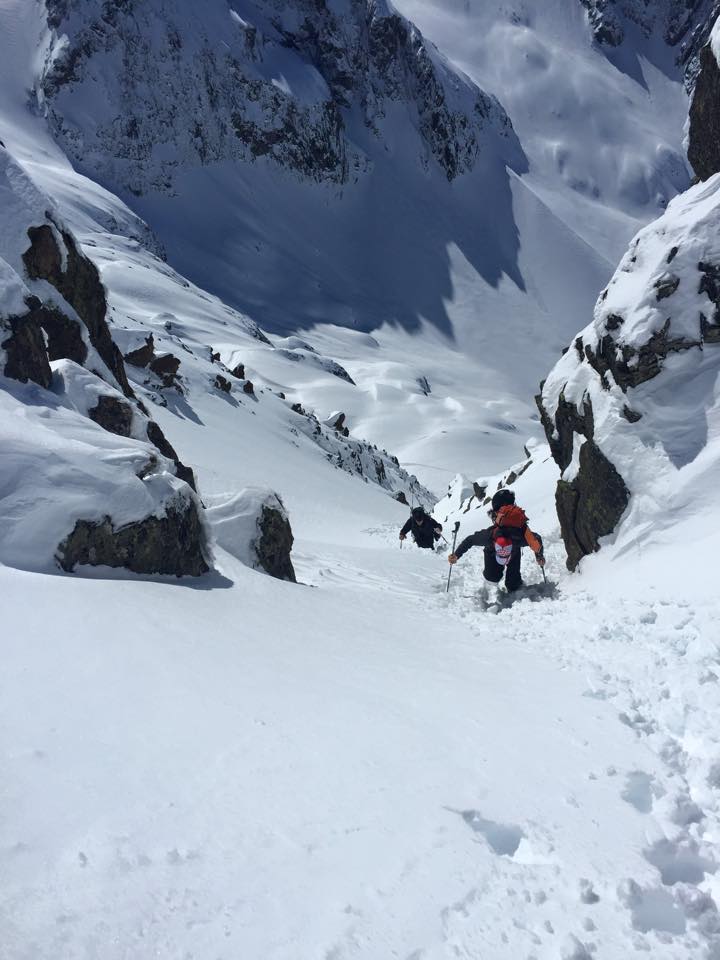 and then made our way up the ridge.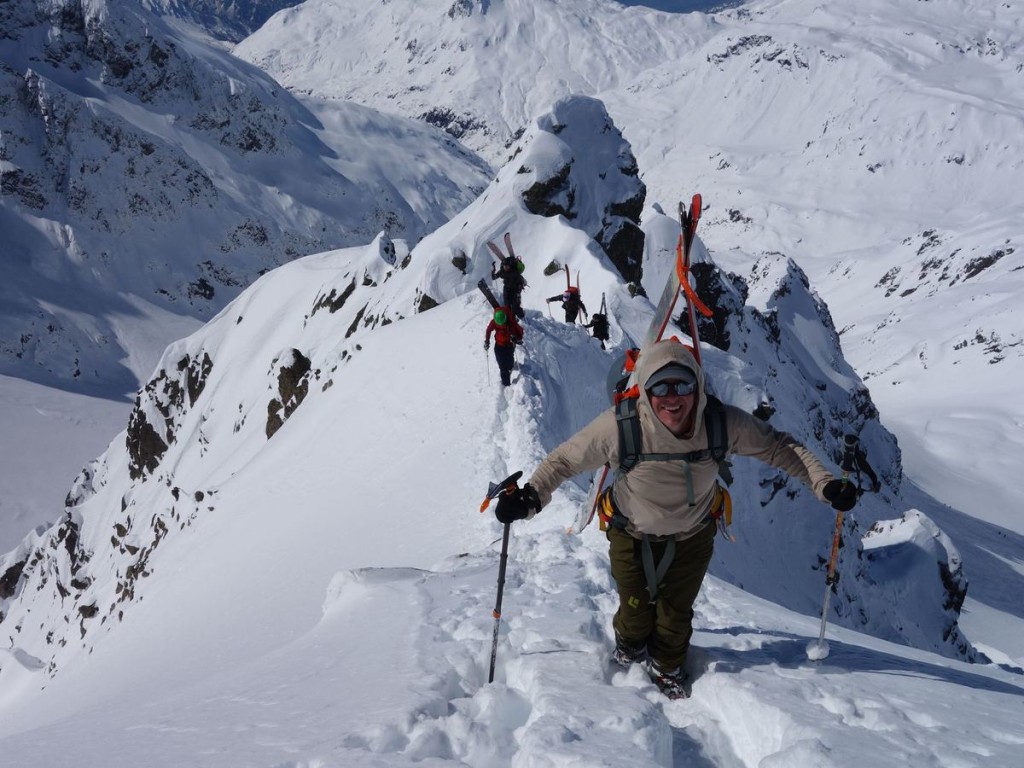 We got to the top, climbed down a bit, and found a good, safe spot to change over and have some snacks.  I think everyone was pretty happy to be there.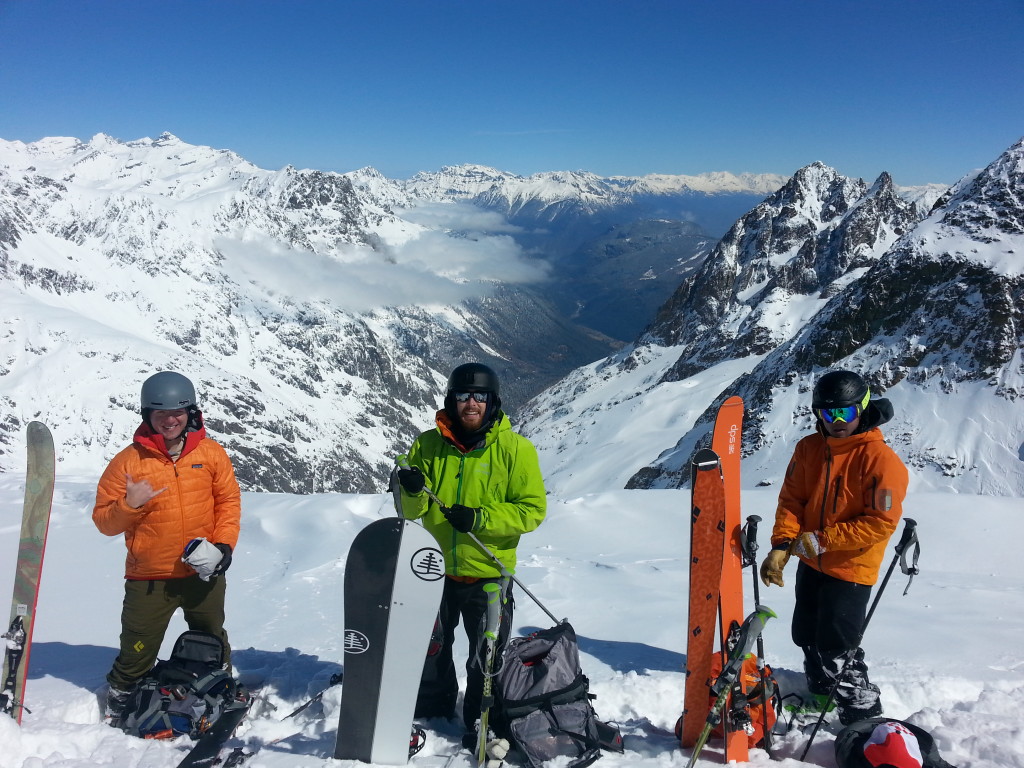 When we are all set, Arnaud headed off across the slope to lead the way down the Glacier du Mort.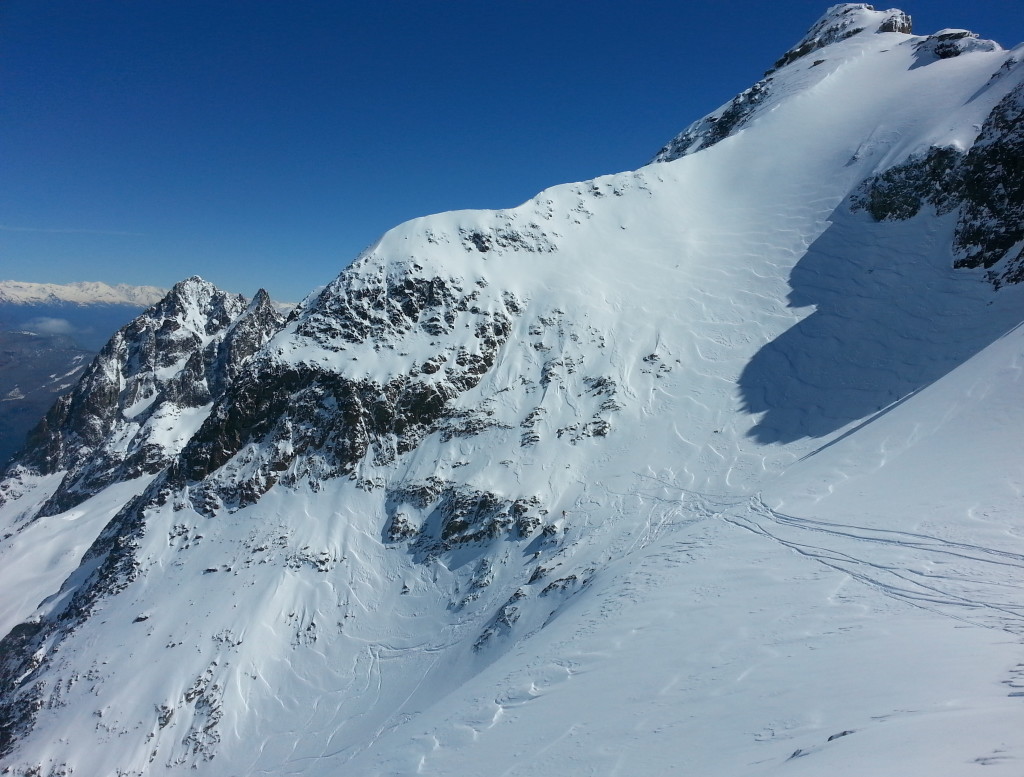 He brought us to a small drop15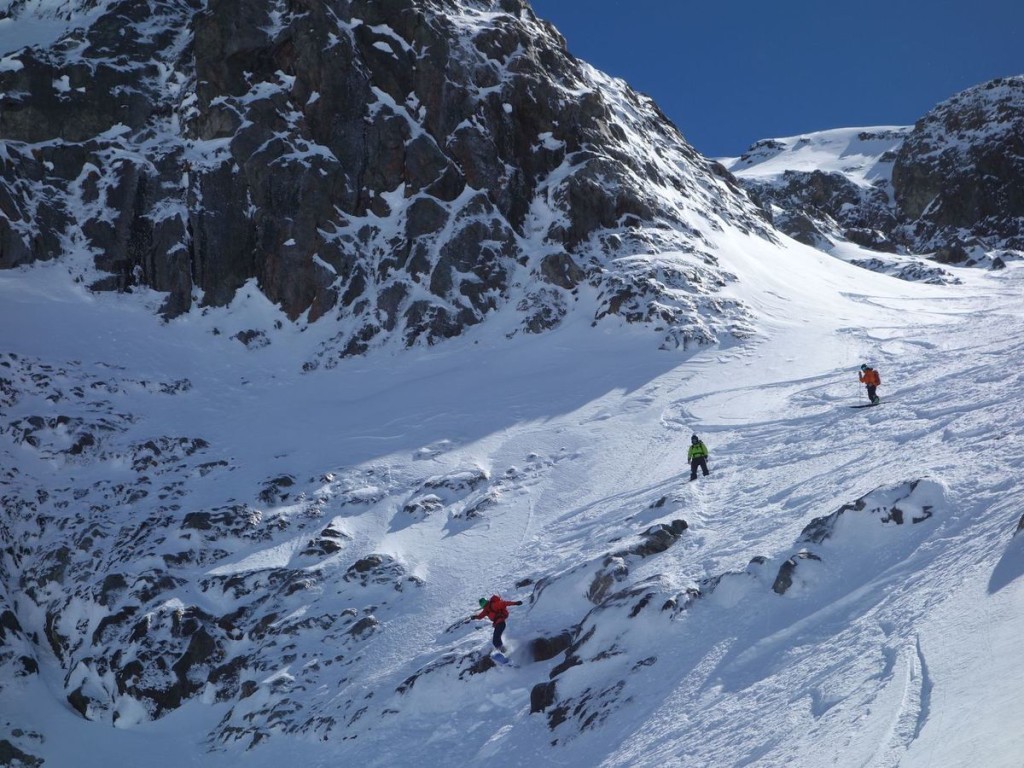 after which we were really able to open it up through the cold, dry powder.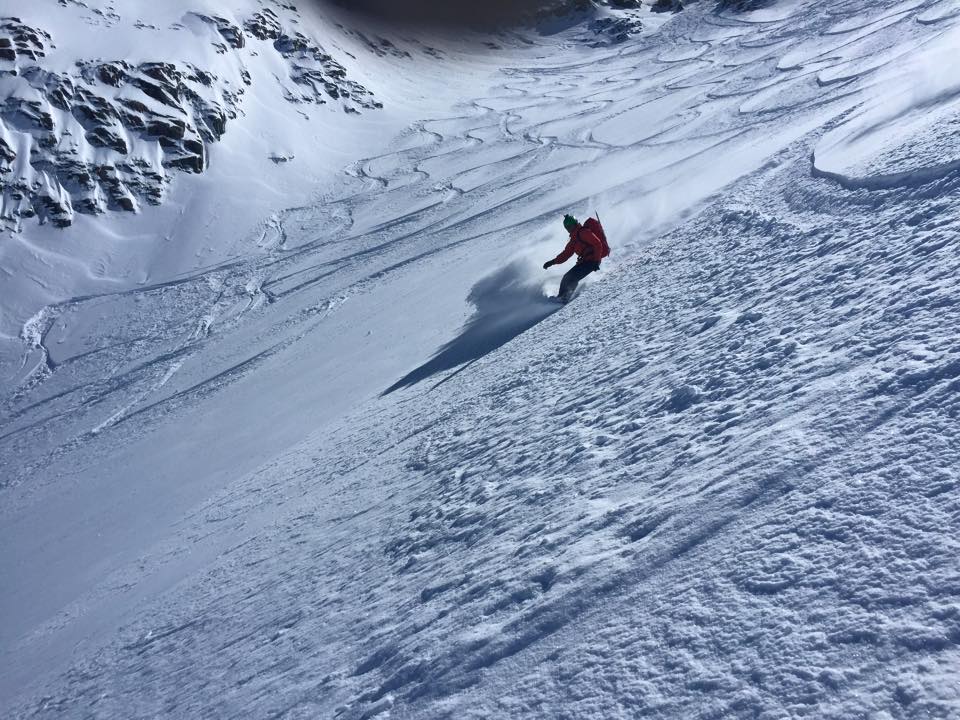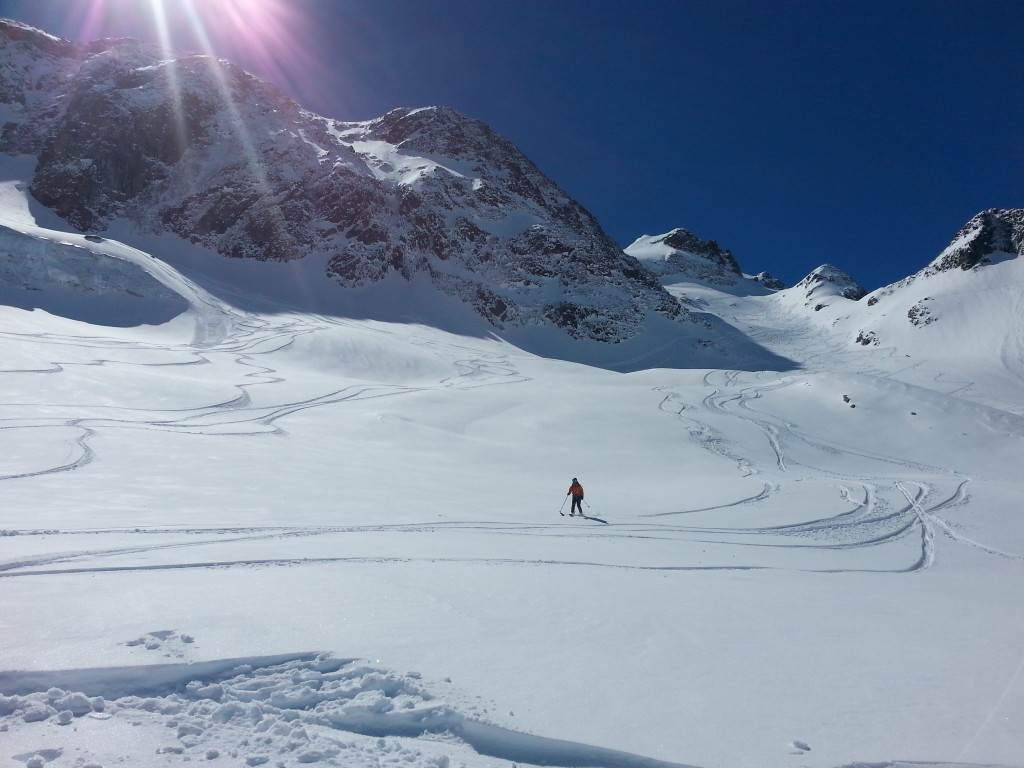 Yep, that was fun.  Just look at the smiles on these guys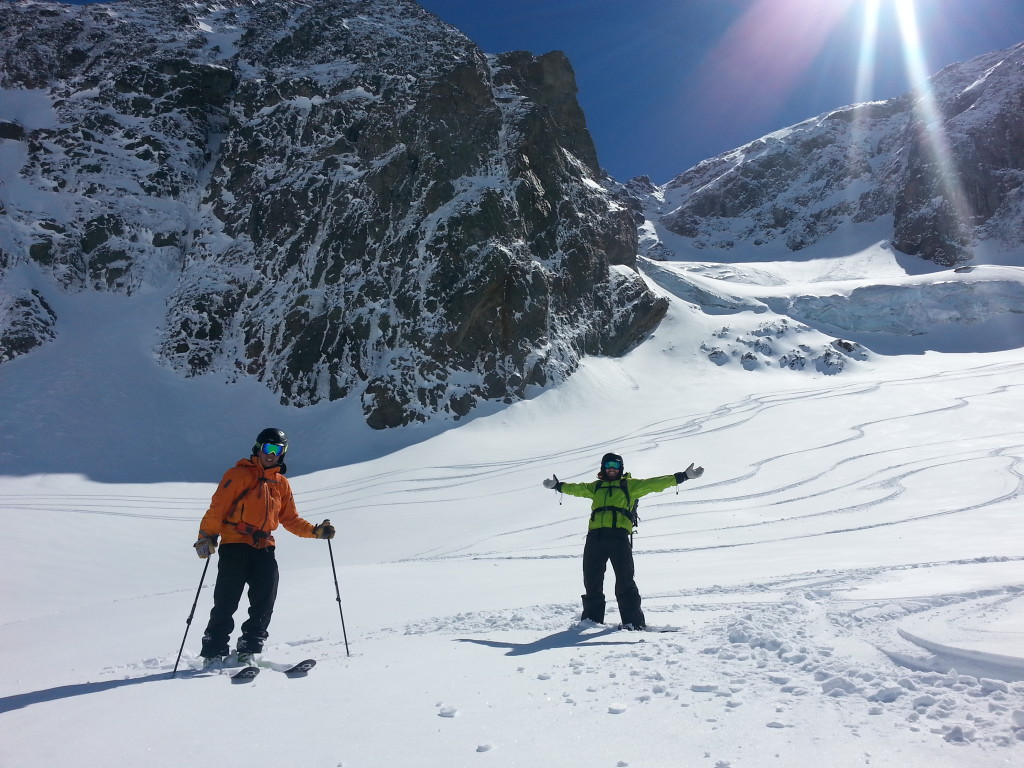 From there we got some more nice turns, but the snow was starting to turn.  Eventually we got below tree line where it was getting quite hot.
We then had to maneuver and shimmy our way through a bob-sled track with questionable coverage, many stream crossings, and several hesitant skiers.  Quite the adventure16, but after a total descent of about 1500m17, we at last made it to Le Buet.  Too bad there was no train back to Chamonix for two more hours.  Guess we'll just have to hang out and have beers in the sun18.
Eventually we packed 5 people into a tiny automobile and managed to get back to Chamonix.  No big dinner plans that night, just some pub food at the MBC19 and early to bed, because the next day we'd be heading up into la haute montagne for several days and nights of adventure….
to be continued.